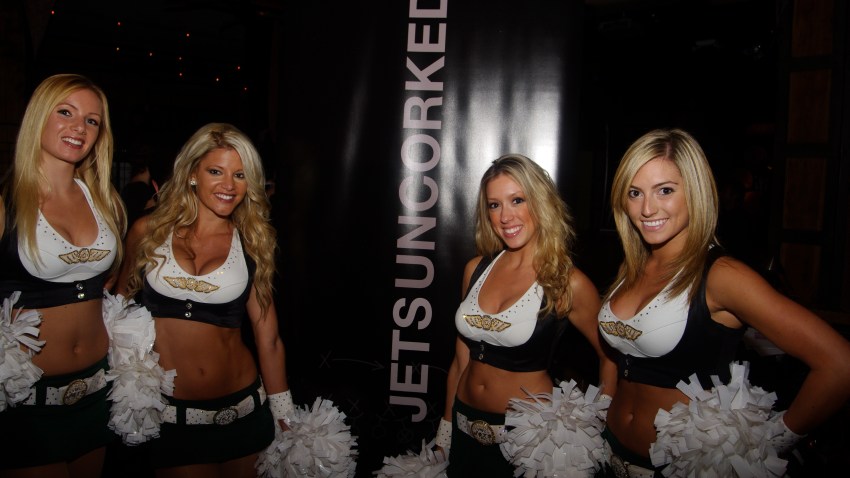 Nothing says football season like burgers, Budweiser, and a well-balanced, full-bodied...Cabernet? This week at the City Winery in Tribeca, the Jets celebrated the release of their first-ever custom-made wine, Jets Uncorked, a 100% Cabernet Sauvignon-- a wine that one Jets exec deemed the most "appropriate for football."

While the Jets chose to bypass both New York vineyards and New York wineries in pursuit of a wine that could hold up to the abuse of paper cups and drinking helmets (Uncorked was made in Napa Valley where Cabernet grows best), we asked a couple of city winemakers to weigh in on the teams choice. "We'd probably gone with something similar," says Alex Baldwin of City Winery -- who also happens to be a football fan and claims to be "man enough to bring a bottle of wine to a tailgate party."

"Cabernet is probably the most approachable grape variety that can be pretty forgiving while offering up a bunch of solid flavors," says Baldwin. Conor McCormack, the winemaker at the Brooklyn Winery, agrees: "Cabernet is widely considered to be a very muscular wine, which aligns well with football." However, he would have liked to see something a tad more local, like say a Merlot from the North Fork: "I think it would be fun to make the Jets wine from a region that is fast becoming world class, and is only a short drive from the stadium."

The cheerleaders that greeted guests at the doors of City Winery brought something else to mind: Considering that women buy most of the wine in this country, "I'd probably have crafted a matched pair of wines. A bright super crisp unoaked chardonnay, more Chablis than Burgundy," for female fans, says Baldwin.

Well, at least you won't have to worry about lugging around a cooler.
Copyright FREEL - NBC Local Media