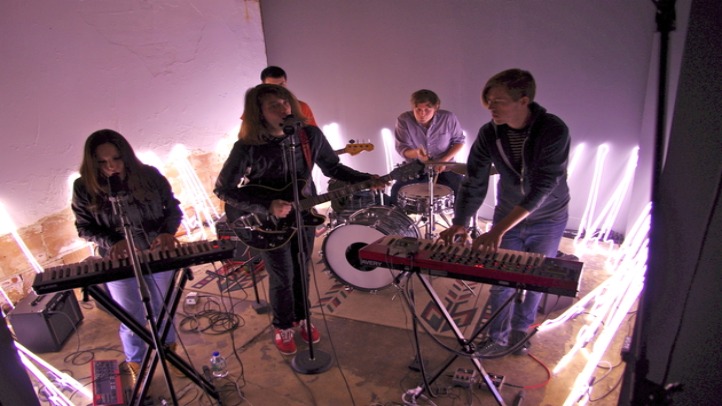 Who can resist Ravens & Chimes? Not Leonard Cohen -- the iconic singer/songwriter bestowed praise on the New York rockers after they covered his heartbreak opus "So Long, Marianne" a few years ago. Rightly so -- the quintet's emotive blend of poignant lyrics and clean, lush expansiveness (think Bright Eyes at their least tear-streaked) suggest a band far more seasoned than their five years together.

Pick up debut Reichenbach Falls for a good taste of their wizened folk-pop leanings (as well as a dose of local pride in excellent track "Saint Jude in the Village Voice").
We shipped off our Band of the Week questionnaire to lead singer/guitarist Asher Lack. He was thoughtful, sharp, and he immediately started talking about trannies. We like him.
----
What's your greatest memory of experiencing music in NY?
In high school some of my friends and I cut class to get tickets to David Bowie at Roseland. During the show he played "All the Young Dudes" and I remember seeing a 6'4'' tranny with tears in her eyes belting along to the song. Then I realized I was belting along too. I don't think that happens a lot in Kansas.

What song says New York to you?
"Famous Blue Raincoat" by Leonard Cohen does a good job of capturing that autumnal loneliness that comes on. I always pictured the song taking place in a big empty loft downtown.

What artist or band?

New York has changed so much since I was kid. Frank O'Hara's poetry paints a picture of the old New York that was just ending when I was very little. I think Simon & Garfunkel, Blonde on Blonde, and later Jim Carroll have all tapped into that same spirit.

When the Strokes came out, it was great to finally have a band from New York on the national stage again, even though their success perfectly coincided with New York becoming a lot more safe and a lot less weird and counterculture. I love Is This It, although at the time it felt like they let the rest of the world in on the secret of how fantastic it is here.

If you could give one album to everyone in this city, what would it be?
Black 47's Fire of Freedom is an album that deals with New York from the perspective of broke scrappy imigrants in the Bronx.

What is your favorite venue to play in the city?
There is no feeling like walking down the steps onto the stage at the Bowery Ballroom. We've played to bigger crowds but there's something about all the great shows I've gotten to go to there that makes the feeling you get playing there unmatchable.

What, or who, do you find exciting in the current New York music scene?
Right now we're all big fans of Hooray for Earth and Radical Dads.