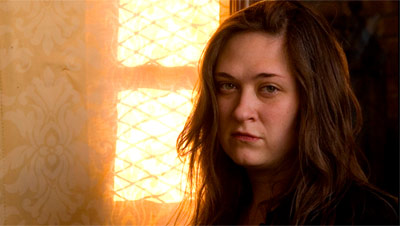 Who: When she was 15, Wisconsinite Heidi Spencer found her late father's guitar in the basement and taught herself to play, channeling the sounds she'd absorbed throughout a childhood spent listening to the likes of Dolly Parton.
After a successful foray into filmmaking (her shorts have screened at film fests), Spencer returned to music: Enter Under Streetlight Glow, her full-length label debut on Bella Union with her band the Rare Birds (which she plugged last night with a short set at the Living Room). NME recently compared the disc to Milk-Eyed Mender-era Joanna Newsom (high praise), calling it "the perfect soundtrack to a jilted lover's late-night drinking session."
Check her out in the video below, playing a stripped-down version of another track form the album, "While It's Shining," in an echoey stairwell at London's Union Chapel.
Reminds us of: Spencer's emotionally-charged warble is indeed reminiscent of the aforementioned Newsom, but we also hear the musical sensibility of Tom Petty

Download this: "Alibi" mp3, off Under Streetlight Glow (stream the full album here)
Heidi Spencer: While It's Shining (The Line of Best Fit Session) from The Line Of Best Fit on Vimeo.