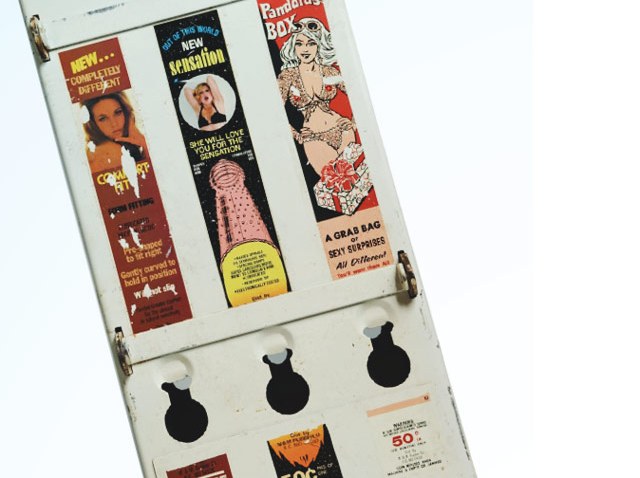 Starting February 4, come to the Museum of Sex to learn how one tiny piece of latex (which started out, before the 15th century, as a tiny piece of lamb intestine or -- ow -- tortoise shell) revolutionized contraception, protection, and everything in-between.
In partnership with (who else?) Trojan, MoSex presents "Rubbers: The Life, History and Struggle of the Condom," tracing the rubber's roots, and presenting a global snapshot of its move from sometime accessory to keystone of the safe sex movement to barometer of morality – or, as the Museum puts it, "multidisciplinary artifact."
The goal, says curator Sarah Jacobs, is to "revitalize conversations about safe sex, which have been swept under the rug the past few years," despite rising rates of STD infection.
So what's on view at Rubbers? Condom vending machines though the ages (pictured), vintage condom paraphernalia, and curios like military signage designed to get soldiers using protection. But we'll be swinging by for a peek at high-concept pieces like the Cruel Condom, crafted entirely out of chainmail, a Valentino-style cocktail dress fashioned by Italian designer Adriana Bertini out of 1200 condoms, and an art piece involving condoms scooped off the floor of a London nightclub (!) and encased in resin.
Check out our preview gallery of artifacts from the exhibit here.
"'Rubbers' is the culmination of safe sex scholarship from around the world," says Daniel Gluck, MoSex's founder and executive director. "We hope that our patrons leave this exhibition well versed in not only the past and present history of the condom, but also the future of safe sex."
Details
Rubbers: The Life, History and Struggle of the Condom
Starts February 4, 2010; schedule varies
The Museum of Sex, 233 5th Avenue, 212-689-6337
General museum admission $14.50
museumofsex.com
Copyright FREEL - NBC Local Media