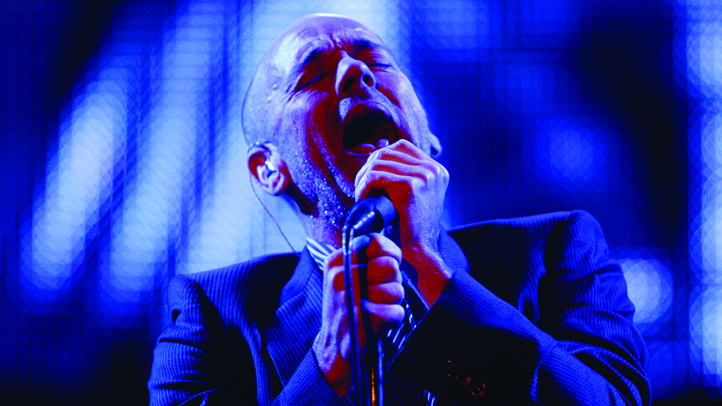 They have their ups ("Radio Free Europe") and downs (Monster) but you can't deny the longevity of Athens, Ga.'s favorite alternative mainstay, R.E.M. Their recent album, Collapse Into Now, is a surprisingly good rock effort garnering critical respect and the never-ending fanaticism of its die-hard disciples.
On Wednesday night, the band's broadly eccentric frontman spoke to the New York Times Magazine editor Hugo Lindgren about the Collapse Into Now film project, which tacitly avoids the word video.
Stipe commissioned directors, all of whom he professes to be a great fan of, to make videos for every song on R.E.M.'s new album. The result is a collage of loneliness and transit, a reminder of how often we are surrounded by others in this city, and yet completely alone. Oh, and one of them is directed by James Franco.
Unsurprisingly, the most provocative are the album's downtempo cuts "Oh My Heart," "Me, Marlon Brando, Marlon Brando and I," and "Every Day Is Yours To Win."
Particularly, the Brando video is heartbreaking, despite Stipe's jubilance over the late movie star's on-screen aura. Directed by Albert Maysles and Bradley Kaplan, the video takes footage from a 1968 documentary featuring the actor wherein, as Stipe puts it, "he seduces every person within 20 feet." But the contrast of the song, with the knowledge of Brando's life track, makes the video absolutely stirring.
The entire album's worth of videos are on display at the Clocktower Gallery in Lower Manhattan until Friday. Despite pop-icon posturing, the videos actually are worth your time. Stipe says they are meant to be viewed on mobile devices, so check them all out on your iPad at