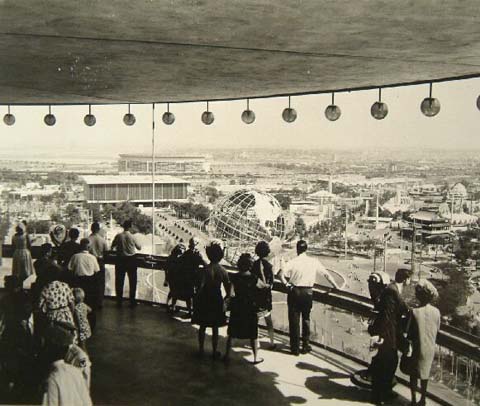 The New York State Pavilion in Flushing has joined the Eiffel Tower and the Coney Island parachute jump (that big red thing by the board walk) as former World's Fair attractions turned historical landmarks. The 50,000 square foot structure on the grounds of Corona Park was built by Robert Moses for the 1964-65 World's Fair and has been allowed to fall into disrepair over the years. The stained glass ceiling collapsed in the 70's destroying "The World's Largest Map" beneath it. But even in its dilapidated state, the icon has taken on a life of its own: the tower that originally served as an observation deck took a cinematic star-turn as an alien vessel in "Men in Black."
Shortly after it was built, Moses convinced a seventeen-year-old Queens native named David Oats to form a citizen's brigade to protect the 1,200-acre fair site, which was formerly a swamp and an ash dump. Moses famously told the Dodgers he wouldn't build them a new stadium in Brooklyn when Ebbet's Field needed to be replaced, because he had a perfectly good plot of land out in Flushing. Of course, the Dodgers went to LA more than 50 years ago, and that plot of land adjacent to the World's Fair became the site of Shea Stadium.
Getting the Pavilion on the official Register of Historic Places has been an ongoing battle almost since it was built. The Corona Park World's Fair Association was soon formed by Oats with the encouragement of Moses who served as the organization's chairman.
The Futurama II, a premier attraction and ride at the center of '64/'65 World's Fair, showcased a corporate-sanctioned tomorrow where man walks on (and colonizes) the moon; people vacation in undersea hotels; laser beams and machines level jungle canopy to create roads, "bringing to the innermost depths of the tropic world the goods and materials of progress and prosperity creating productive communities that can enter profitably the markets of the world" and a place to vacation; and in the city of the future "covered moving walks "radiate to shopping areas that are now truly marketplaces of the world." Most of the ride revolves around building highways literally everywhere, which probably suited Moses and sponsor G.M., just fine. Now their vision of the space-age future might actually make it to see the jet packs.
Copyright FREEL - NBC Local Media