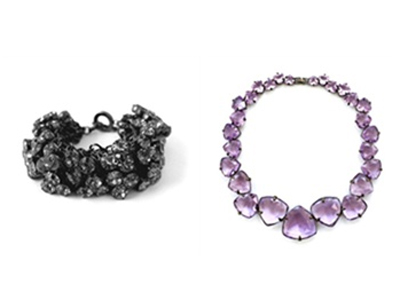 After landing a job at Ralph Lauren out of school and then at Oscar de la Renta, Leeora Catalan launched Noir jewelry, an amazing collection of elegant glass stones and too-cool-for-school spikes. Since her pieces are rumored to be appearing in the upcoming Sex and the City sequel, we sat down with the New Yorker to talk friendship with Patricia Field and what prompted her to break out on her own.
When did you launch Noir? What got you started?
About 15 years ago--a friend wanted bauble necklaces with tassels long to the floor for his fashion show, and I find couldn't any in the market. So I made them. After the show, Bloomingdales wanted to buy the necklaces and Italian Vogue wanted to shoot them. I had to think of the name really quickly, and since the collection was entirely black so I chose Noir.
A whole lot of celebs wear your pieces (Lady Gaga, Rihanna, Alicia Keys, etc). Are there any famous people you'd get most excited to see with your jewelry on?
I would die if Prince or Chrissie Hynde wore my jewelry!
You and Patricia Field have been friends for a long time. How did that begin?
I had been doing called "Garter Gear," a line of accessories for clubbing. It was a short-lived endeavor and Pat was the only person to buy it. She's had Noir in her store every season since I started it. She's such a huge inspiration and supporter.
And speaking of Ms. Fields, your necklaces will be in the upcoming SATC movie, yes?
We did make special necklaces for Kim Cattrall and Miley Cyrus that they are supposed to wear in a scene together. But you never know for sure or how many of the pieces were filmed or worn. I think that's the exciting part, playing "I Spy" searching for the jewelry.
So then, of course, we have to ask which one of the four major SATC characters do you relate to most, style-wise?
They have always said that New York was the fifth character in both the series and the movie. If that is the case, I definitely relate to NYC the most.
Noir Jewelry is available at Henri Bendel, Big Drop, Patricia Field, and Pixie Market.