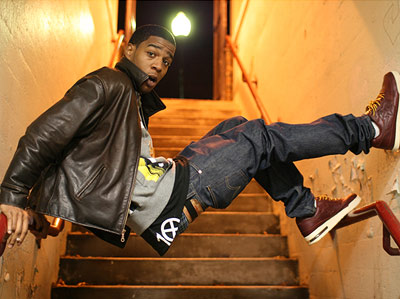 Kid Cudi's new album has been talked up on his Twitter and Tumblr for days, nay weeks. The entertainment-everyman, Cudi has been saying things like "No one is prepared for this next album, DEAR GOD! Working on mixes, the final stages. Cudder season is fast approaching."
He might actually be living up to his own hype.
Kid Cudi's first two albums found the young entertainer, buoyed by his work with Kanye West, heralding himself as a hero, among other things. They also found him a bit stylistically stillborn: is he rapper or singer? His underwhelming lyrical delivery made it difficult to be a fan unless you really subscribed to his ethos.
But on this new cut Cudi shared late last night, the Kid might have actually found the one atmosphere where his mono-drawl fits well. Without doubt about to be hailed as "a banger" because of its grimy, dub undertone, "Perfect is the Word" accepts Cudi as the sometimes-off-key-half-singer-half-rapper he was meant to be. And not the other way around: Cudi, despite his somewhat chilled delivery, is stubborn as ever here.
The instrumental brings Cudi into its world. Orchestral strings deep in the mix bolster the vocal melody. The beat is a stuttering lockstep, moving from three to two to three in a hypnotic polyrhythm, sounding like a robot marching band. It's the contrast of the mechanical and organic that makes this interesting.
The lyric almost homages itself, seeing as it's a step out from Cudi's previous work: "Safety is the word/the main thing that the lost souls want/but not me/I know things I wish I had not," Cudi drawls on the verse before bursting into the anthemic chorus: "cowards run away."
Which is a good sentiment, considering Cudi never shied away, just kept talking himself up, even as detractors were in full force.