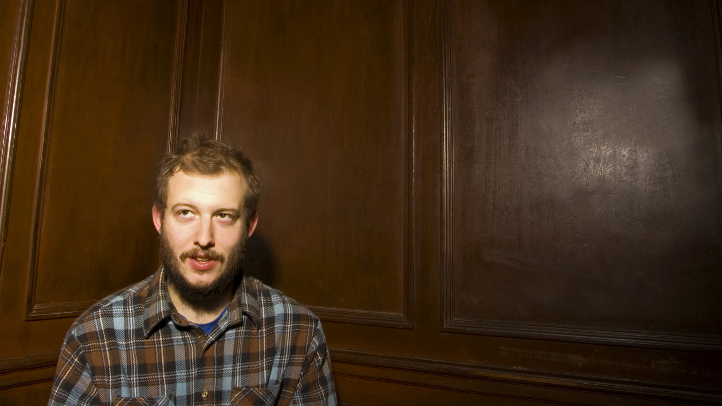 Bon Iver's ringleader Justin Vernon is an indie folk celebrity of sorts. Vernon's stock quickly rose after the inspired performances following the release of Bon Iver's 2008 release For Emma, Forever Ago. He was tapped by Kanye West to perform on West's 2010 release My Beautiful Dark Twisted Fantasy and in turn West asked him to join him on stage when he closed this year's Coachella Festival.
Vernon's stock is set to rise again with the release of Bon Iver's self-titled second LP that will hit shelves on June 21. As Jimmy Fallon points out while speaking to Vernon during a rare interview with a musical guest, Vernon is on the current cover of Billboard and will be on the cover of an upcoming issue of SPIN. Watch the entire, somewhat awkward interview below:
With the help of Megafaun's Phil Cook, Vernon went on to play a medley that included Bonnie Raitt's "I Can't Make You Love Me." The entire performance is below:
In other Bon Iver news, Rolling Stone recently accused iTunes of leaking the new album, but iTunes has yet to comment. Allegedly, the largest digital music service in the world was supposed to make the song "Calgary" available as a single track download, but they accidently made the entire album available. The album was quickly taken down, but not before it started to showing up on file sharing site. Bon Iver has also declined to comment on the issue.
Finally, GAYNGS - the soft rock super group consisting of members of The Rosebuds, Har Mar Superstar, P.O.S. and many others including Vernon - was awarded $100,000 in compensatory and punitive damages on May 18 from a trial stemming from an incident at 2010's Austin City Limits Festival. On the morning the band was scheduled to perform, the GAYNGS tour bus was ordered back to Nashville forcing the band to cancel their performance at the festival.
Manager Nate Vernon said, "I am extremely relieved that the jury understood the turmoil, both emotionally and financially, the band has gone through as a result being forced to cancel our ACL performance. No amount of money can make up for being deprived of that show; however, the peace of mind which comes from justice is the next best thing."
Let's hope the next few months are without legal issues as Vernon and the rest of Bon Iver will spend the second half of the year touring the world in support of their new record. The currently scheduled dates include two sold out New York shows at United Palace on August 8 and the Prospect Park Bandshell the following evening.