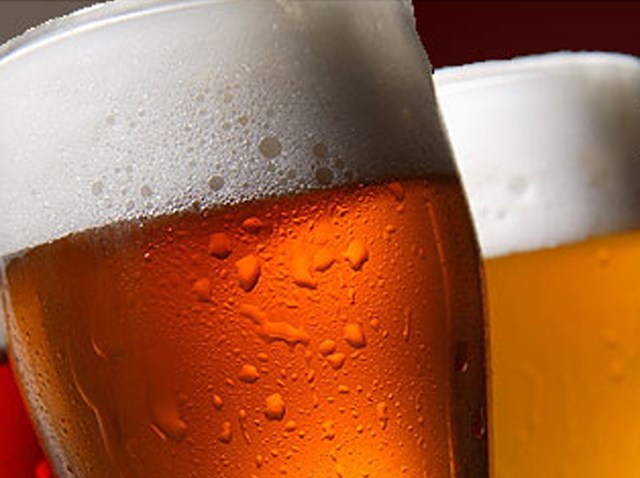 Into the bar wasteland surrounding NYU, an Irish pub of a different sort is born. Amity Hall, named for what was once Amity Street and is now West Third, opened its doors last night. The two-floor beer-hall-style space is still in its soft opening: the 120 different bottles of beers are arriving today as well as the logs for the wood burning fireplace.

But of the kinks still being worked out, friendliness on the part of the mostly Irish staff is not one of them. The owners have been in the the NYC Irish pub business for two generations, starting with Maggie's Place on 47th Street, which was opened by one of Amity's owner's mother in 1972. According to Tory, another one of the owners--who also operates the Half Pint next door--Amity is aimed at fitting in with the neighborhood but also being a little more upscale. Which means offering a comfortable, well-designed space and a carefully curated menu at prices that, well not dirt cheap, are still friendly.

Focused "mainly on food that I like to eat," says Tory, the menu features eight kinds of stuffed burgers like the $12 Angry Bleu Cheese topped with caramelized onions. What makes it angry, you ask? The meat is flavored with hot sauce before it is cooked. There is also Murray's cheese from around the corner, porchetta sandwiches, flatbread pizzas and an eclectic appetizer selection including tempura green beans and bocconcini rice balls.

A large photograph of the front of the building from the 1930's hangs on the exposed brick in the entryway and Tory says that their goal was to recreate that look as closely as possible. Downstairs is lined with low tables and leather stools; a table made from an old radiator that Tory rescued from Brooklyn inhabits the middle of the room and a large chalkboard, yet to arrive, will boast the extensive list of brews.

To create the kind of neighborhood bar "where everyone knows your name" says Tory, they are offering a Beer 101 Club, of which you become a member by, you guessed it, trying 101 different beers. Membership in the exclusive club includes free tastings and "maybe even ski trips." Better get started.
Copyright FREEL - NBC Local Media