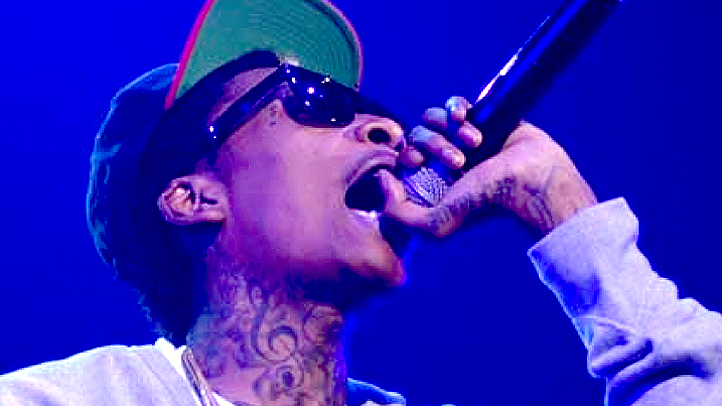 From Manchester, England to Bonnaroo, in Manchester, TN, and a whole bunch of cities not named "Manchester" in between, Wiz Khalifa has been selling out big venues. What's striking about his immense popularity is how quickly it spread; after all, it was only as far back as 2009 when Khalifa was grinding on the college circuit, performing at themed frat parties to less-than-rapt audiences.
Just about two years -- not to mention a triple-platinum record ("Black and Yellow") and about 2.5 million Twitter followers -- later, he's sold out every single show on his Rolling Papers Tour and has just the previous evening been nominated for the Best New Artist VMA by MTV. And this Monday, he'll play yet another sold out show, with tour mates Big Sean and Chevy Woods, at the SummerStage main stage in Central Park.
Khalifa has clearly arrived. And in doing so, he's mapped out a new route for aspiring artists -- one that relies heavily on constant output, grassroots buzz, and maybe most importantly, the Internet. Impressive work ethic mandatory, no major label required -- in fact, Wiz didn't break through until leaving one and releasing 2010's free Kush and Orange Juice mixtape. I spoke with Khalifa before his Greensboro show about his nascent acting career, the grind of a worldwide tour, and how rap stardom is about more than just rap.
You just got done touring Europe. Which city was the most fun?
"Amsterdam. No question. That place is crazy. But we had fun pretty much everywhere."
Congrats on your nomination for Best New Artist VMA. One guy you're up against is Tyler, the Creator-- have you seen his "Yonkers" video? What's your take on Odd Future?
"Yeah man, I'm onto Tyler and Odd Future. They're really energetic and raw; they got this real new, real unique vision that they're bringing out there…it's impressive with them being so young." (Note: When asked a similar question, Tyler responded, "If I lose to any of those wackass videos I'm gonna be mad, because they all suck -- except Adele's.")
Another guy you're up against is Big Sean, who's also on the tour with you and was nominated for his "My Last" video.
"Big Sean has always been my homey. We both blew up together at the same time, so it's only natural that we share a fanbase. It's awesome to be getting that kind of recognition so early in our career."
You guys (along with Curren$y) have put out three tracks together in the last three days -- is there a full Wiz Khalifa/Big Sean/Curren$y mixtape forthcoming?
"Man, we was just having fun. I guess a lot of other people been having fun with it too. But I'm not gonna give any details, people just gotta wait and see."
You've gotten a lot of praise during this tour for being an entertaining live performer, which is rarer and rarer in rap these days. Is your stage presence something you've consciously worked on, or is it a talent you've always had?
"I've definitely put work in on it…just paying attention to my performances, and how the fans respond to it. And when I'm recording, I'm thinking, 'What's this gonna look like live?' Because the performance is as important as what I record. The show -- that's bringing the music to life. I love that and I look forward to that."
You've started working on your own imprint -- Taylor Gang Entertainment -- and one of your first artists is Chevy Woods. What's it like to be able to sign a guy who you've been working with for so long?
"Me and Chevy -- we been doin' it since day 1. We've always had our own individual sounds, but early on we knew we sounded good together, too. And you know, Chevy's my boy: we look out for each other, been' traveling together. It's nice for me to be in a position, you know, where I've been coming up and now I'm able to help some of the other guys who's been with me come up, too. It's good to see him get the shine that he deserves."
Back in February, you were working on the movie High School with Snoop Dogg -- how do you rate yourself as an actor?
"I like being a novice at things, and learning on the job and getting better. I would rate myself as like, a 6. But you know, that's just me being insecure -- I had people tellin' me I was a natural."
What about Snoop Dogg? He's got a little more experience in the acting realm.
Oh, man, Snoop's got it down to a science. He's…I mean, you've seen him, Snoop knows what he's doing when he's acting. He's amazing, in his own, Snoop Dogg kind of way.
Other than High School, what's your favorite stoner comedy?
"Grandma's Boy. Gotta be."
You're sort of a poster-child for a new path to rap stardom -- you left the major label (Warner Brothers), and then you really made it big by promoting yourself and your music online through a grassroots, ground-up network. And you've used the internet to widen your audience better than maybe anyone else in rap.
"It's my job to keep the fans entertained, to find new ways to keep people involved. I can't say that everything I do, I plan, either. Some of it is just like, letting fans keep up with you and see you in an everyday type of light. The internet has always been a great tool, because you can reach the cool people who are up on new stuff first…but lately people have seen like, how much you can do with Twitter and everything like that. Everything is web-driven, everything is available. You gotta put yourself out there where everyone can see you, and you can only do that with the web."
So do you see this as part of your job description? As in, you're not just a rapper, but you're also your own promoter as well and some of that means connecting with fans online.
"I see myself all-around business person -- I run my music side, my business side, my tour. It's all my ideas coming to life, there's no one else doing it for me, no one telling me where my music should be going. I consider myself an all-around entertainer. And in years to come, it's gonna grow into way more."