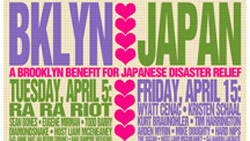 Here's another worthy benefit—actually, a pair of benefits, on April 5 and 15—bringing together musicians and comedians to help with earthquake relief in Japan.
Night One of BROOKLYN <3 JAPAN: A Brooklyn Benefit for Japan Disaster Relief is especially heavy on the music side. Performers will include Ra Ra Riot, Diamondsnake and Sean Bones, plus you'll hear DJ sets from Annie Hart of Au Revoir Simone and Chris Baio of Vampire Weekend. (On the comedy side, Eugene Mirman and Todd Barry lead the pack). Night two will feature more comedy than music, but Tim Harrington of Les Savy Fav and Mike Doughty are on the marquee, with the funny likes of The Daily Show's Kristen Schhaal and Wyatt Cenac, among others. Plus a silent auction, delicious eats, and more. From Bell House:
An estimated 350,000 are reportedly homeless from the devastation caused by the Japanese tsunami and 9.0 magnitude earthquake earlier this month. Over 10,000 are confirmed dead, and another 17,000 more are reported missing according to the United Nations. Our hearts have been hurting thinking about this tragedy, and we've put together a two-part benefit to raise funds to help the disaster relief effort in Japan. 100% of the ticket sales and silent auction sales will benefit GlobalGiving.org, a charity that is currently disbursing funds to organizations providing relief and emergency services to victims of the earthquake and tsunami. The funds will directly help survivors and victims with recovery efforts.

We've joined forces with other local Brooklyn businesses to help raise more money at both events through a silent auction, including hundreds of dollars worth of gift certificates from Union Hall, Floyd, Frankies 457, Prime Meats, Bogota Bistro, Fonda. Also contributing items to the silent auction are Bravo's Watch What Happens Live! with Andy Cohen (a pair of tickets to see the show), a signed Les Savy Fav skateboard from French Kiss Records, autographed copies of Stephen Colbert's I Am America and Steve Martin's An Object of Beauty.
BROOKLYN <3 JAPAN: A Brooklyn Benefit for Japan Disaster Relief, Tuesday April 5 (Night One) and Friday April 15 (Night Two) at 7PM at The Bell House, 149 7th Street, Gowanus, Brooklyn, 718-643-6510. Tickets are $15 per night or $25 for both nights; available here.