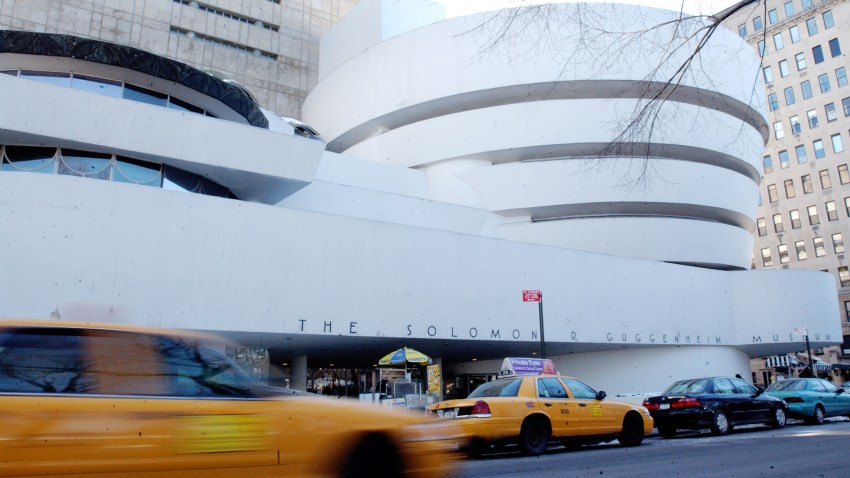 For Frank Lloyd Wright, the slow rise of the spiral ramp at the Solomon R. Guggenheim Museum allowed paintings to be displayed as if on an artist's easel.
When the museum opened 50 years ago, the groundbreaking design embodied the architect's guiding ethos that form and function are indistinguishable.
That philosophy was expressed in projects large and small but perhaps best realized in his then-controversial, now-revered design for the art museum on Manhattan's Upper East Side.
This spring, the museum is paying homage to its visionary 20th-century architect with a special exhibition titled "Frank Lloyd Wright: From Within Outward."
Co-curated jointly with the Frank Lloyd Wright Foundation in Scottsdale, Ariz., the show celebrates Wright's prolific output of private residential commissions and public projects, both realized and unrealized.
The museum was "definitely one of his strongest examples of 'breaking out of the box,'" with the interior ramps articulating the exterior's cylindrical form, David van der Leer, the museum's assistant curator of architecture and design, said. "It changes how you think about and display art."
It was also very controversial as it was going up "because everyone was so used to the four-wall classical space," Margo Stipe, curator and registrar of collections for the Frank Lloyd Wright Foundation Archives, said. She compared it to a seashell, where "the continuing spiral ramp is all of a piece."
"You can look in so many different directions. You can interact with both the artwork you're immediately in front of as well as all
of the people. It becomes a very social gathering space as well," Stipe said.
The masonry structure -- considered Wright's most important late career design -- is the largest object in the show. The bulk of the exhibition is being presented along the ramps rather than in the galleries that run off them, affording a bird's-eye view from the spectacular rotunda floor that rises up to a domed skylight.
The exhibit begins with his 1889 home and studio in Oak Park, Ill., continues up the ramps with designs for Baghdad that were never built and ends with the Guggenheim.
The exhibition features 64 projects and 201 original Wright drawings. Digital animations and oral histories offer perspective on Wright's principles of organic architecture and continued relevance to contemporary design.
Three-dimensional scale models explore the functional spaces of many projects in relation to their exteriors. They include the 1937 Usonia-style private residence, the Herbert Jacobs House in Madison, Wis.; the 1909 Prairie-style Unity Temple in Oak Park, Ill., that was declared a national historic landmark in 1971; and a large-scale model of his 1957 scheme for Greater Baghdad featuring an opera house, university, botanical gardens and museum that was never realized due to political upheaval in the Iraqi capital.
At the museum's connecting annex towers, two case studies will explore the connection between Wright's private and urban commissions.
The exhibition comes a few years after a major renovation of the Guggenheim, which included repairing cracks in the facade, upgrading its cooling system, adding insulation and treating corroded steel structures.
The museum was 16 years in the making, primarily because of design modifications, and opened six months after Wright's death.
Critics mockingly nicknamed the Guggenheim's inverted ziggurat shape the "cupcake" and "washing machine," van der Leer said.
But after opening on Oct. 21, 1959, "people walked in and realized that the nicknames they gave it weren't that relevant at all," he said. "It's really about this wonderful space when you get inside."
If Wright had not taken such risks, Stipe said, "architecture wouldn't be where it is today."
Wright died on April 9, 1959, at the age of 91 after completing more than 1,100 designs, including textiles and windows. Nearly 500 of his buildings were made and just under 400 exist today.
The show runs May 15 through Aug. 23 and will travel to the Guggenheim Bilbao in Spain.
Copyright AP - Associated Press