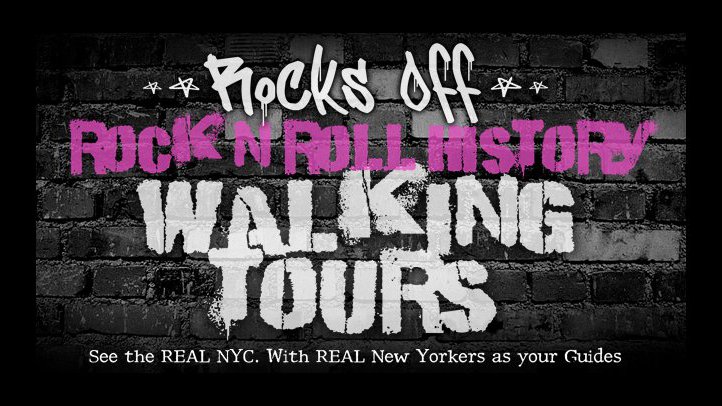 Rarely does a day pass where New Yorkers can enjoy a sunny afternoon without the nuisance of a double-decker, red tour bus crossing their path. Sure, we get it; New York has a lot to offer and people from all over the world want to visit its vast majesty, but what those tours neglect to show is a side of the city's history responsible for most of its "cool" cache.
Enter Rocks Off Walking Tours that boasts the tagline: "See the real NYC with real New Yorkers as your guides." This isn't a tour for your aunt and uncle visiting from Des Moines, Iowa, whose idea of rock and roll is a Celine Dion concert.
What Rocks Off is providing is a chance to peer into the back alleys, store fronts and venues that hosted the birth of American punk rock and the small pockets where those ethos still exist.
The Walking Tours are split up into two categories with two different hosts. The first, "The Past, Present and Future of Rock N Roll in New York City," is hosted by Jake Szufnarowski, Rocks Off founder and member of Tragedy – the all-metal tribute to the Bee Gees. This tour will take walkers through the Village, showing them historic locations like Joey Ramone's apartment, Max's Kansas City's old location and some of the last surviving remnants of old New York along with the few torch-bearing establishments still burning the flame of the glory days.
The second tour option, "The History of Art, Crime, Drugs and Punk Rock on the Lower East Side," is hosted by John Joseph, whom you may know from the iconic New York-based hardcore band the Cro-Mags.
Joseph will take the curious through his days in the East Village where he experienced everything from the Tompkins Square Park Riots to shows at landmark venues like CBGBs. Joseph promises a memorable experience from a guy who had firsthand experience of the LES's shady past.
Visitors and interested New Yorkers have multiple chances to enjoy one of Rocks Off Walking Tours. Most of the schedule tours will run you $25, but they will also do special group rates and times for large parties.
Purchase a ticket to one of the tours soon and see the side of New York that is responsible for some of our country's rich musical history.