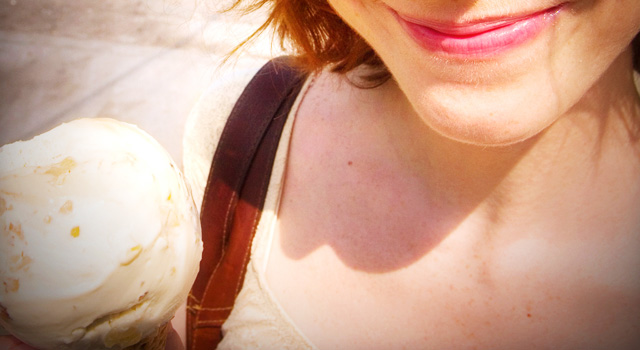 If you've not yet joined the cult of Fort Greene's The General Greene -- whose "American tapas" handle doesn't do any justice to the homey small-plate menu rich with artisanal meat-and-cheese ingredients -- the addition of an ice cream cart will put you over the edge. Here's why:
1. The cart's just a couple of weeks old, and as Time Out reported, was made (like everything else at The General Greene) by hand, from scratch, with local resources. (Check out the cart-assembly gallery.)
2. GG co-owner Nicholas Morgenstern makes the ice cream Philly-style, meaning he leaves out the eggs. Without that custardy base, the result is less rich and any added flavor stands out more.
3. Is it possible for ice cream to be "hearty"? Because that's kind of what these flavors are, with lots of sweet-meets-savory combinations, much like the rest of the GG menu (where candied bacon is listed as a side). So far, standouts include salted caramel pretzel, bourbon raisin and lemon olive oil.
4. You can follow the cart on Twitter (@ /greeneicecream), where Morgenstern sends out the daily flavor lineup. Sample tweet: "Beautiful day for a Sugar Cone! Peanut Butter Cinnamon, Almond Joy, Salted Caramel Pretzel, Strawberry Brown Sugar Frozen Yogurt, and more!"
5. It's not on the menu yet, but there's a flavor in the works called The Elvis: peanut butter, banana, and bacon (cured by Boerum Hill's Char No. 4 restaurant). That's reason enough to hop on the Greene Ice Cream's Twitter feed. Or set up a stakeout across the street.
The Greene Ice Cream, 229 DeKalb Avenue at Clermont, Fort Greene, Brooklyn; (718) 222-1510.
Copyright FREEL - NBC Local Media