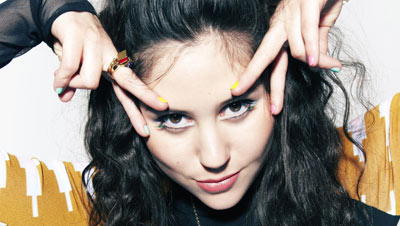 The self-titled debut album from London-born Eliza Doolittle -- whose just-saccharine-enough pop taps the same vein as fellow Brits Lily Allen and Kate Nash -- comes out via Capitol Records on these shores on Tuesday, and she'll fête the release with a show on April 25 at Mercury Lounge,
Now we just have to wait and see if the precocious Doolittle (née Eliza Caird, but the "My Fair Lady" handle stuck from the age of 5) can delight American audiences on the same scale as she has at home in the U.K. (read: massive) with absurdly catchy tunes like "Skinny Genes." Meantime she told us about her fondness for Shakespeare, Nike high-tops and mahonies (British for "moola") via our Q questionnaire. Which, as it turns out, is British for "questionnaire."
Name: Eliza Doolittle

Age: 22 (best number)

Lives in: Camden Town, London

Occupation: Singer and songwriter

First real job?
I was lucky enough to get a publishing deal straight out of school. It gave me some mahonies and a chance to focus on the music.

First record you ever bought?
The first one I remember spending my pocket money on is Janet Jackson's Velvet Rope.

Where do you go to unplug?
I love to go to the park when it's sunny with my friends, but between my schedule at the mo and English weather that's pretty unheard of.

What time do you wake up?
I'll sleep 12 hours if I'm left, but I've been having lots of early mornings recently. I've gotten used to it. It gets depressing when you sleep through the day.

Your first NYC gig: Discuss.
My very very first gig was when I was 17 or so at Living Room, then a few days later at Pianos, just me tinkling out a few tunes on a piano. My first proper NYC gig was a couple months ago at Joe's Pub. One of my favorite shows yet!

Top three songs in your iPod rotation?
"Swim Good," Frank Ocean
"What You Need," The Weeknd
"Love Child," Hall of Mirrors

What do you splurge on?
Probably food more than anything. I love eating. I also have an obsession with Nike high-tops and short shorts.

To when do you point your time machine?
Either Shakespearean times, 'cause I've always been slightly in love with him and it seemed so much more romantic back then. Or I'm up for some Medievalness. Or maybe back to when the Romans worshiped goddesses and wore togas and ate grapes.

Best meal you've ever had in NYC?
At the Diner. Mama's grilled cheese sandwich with tomato soup and French fries.

What's your drink?
When I'm trying to be a good girl, tea. But I also love an amaretto sour or a spiced rum and ginger beer.

First childhood memory?
When I was about two years old, I remember walking with my mum and my little brother who was in a pram. It was my first gutted feeling, knowing I'd probably never get a ride in the pram again 'cause he'd taken my spot.

What's your pre-show ritual?
I do a little warm up, get the band all in one room, have a banter.

Do you Google yourself?
Noooo! I have done and it freaked me out so I haven't done it since.

Most treasured possession?
Probably my photographs... I have a massive boxful. I'd definitely grab them in a fire.

Fill in the blank: In a previous life, I was ______.
A cat. I think I'm quite independent, but I still love a cuddle every so often.

Your favorite thing about yourself?
People have said they like my drive. I don't really see it as drive -- I just love doing what I do, and doing it as well as I can makes me feel good and happy. So I do it.

Who are your heroes?
Stevie Wonder, Carole King, Michael Jackson, Beyoncé, Aaliyah, Aretha, Paul Simon...

What scares you?
The dark. It's silly, but I like to know what's next to me, below me or behind me. I get the same fear with the sea.

Fill in the blank: I'll know I've really made it when __________________.
I die? I don't understand "made it." I just want to make music for my whole life.

Eliza Doolittle, Monday April 25, 7:30PM at Mercury Lounge, 217 East Houston Street; 212-260-4700.