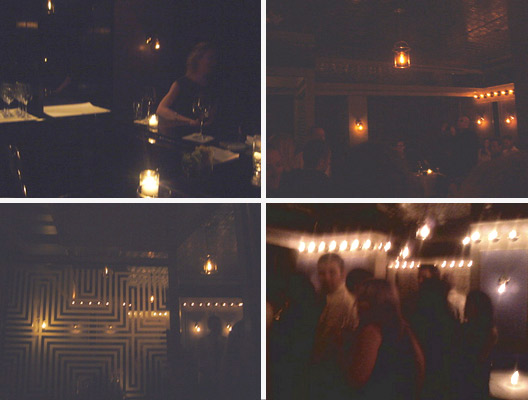 West Village: On Tuesday night, the forthcoming West Village restaurant Charles held an "Exclusive Pre-Opening Celebration", otherwise known as a $130 a head private party with appearances by the owners along with the consulting chef, The Waverly Inn's John DeLucie. Part of the pitch for the event: "View the kitchen in addition to the private back room before it's curtained off for the eventual celebrities who will be frequenting this soon-to-open hotspot." We spent the $130 a head so you didn't have to and came away with some notes for youz.
First, on the delays. The reason they aren't open to the public? The decor, already quite silky, still needs a finishing touch or two but it's mostly due to red tape with the city, which a manager tells us should be cleared up by their new projected opening, October 20.
However, important note coming right up, that doesn't mean you're getting in on the 20th. For Charles is hoping to be super exclusive with a Waverly Inn-like resy policy. And like the Waverly, the owners of Charles told us they don't want it photographed, ever-forever-ever. Whether that's the truth or they have some exclusive photo deal with a glossy, it was made extremely clear to team Eater that sneak photos (above) were unwelcome. At one point the breaking of knee caps was mentioned (jokingly, we think).
Since the photos we got are dicey, a brief description of it all, designed by Rafael de Cárdenas. The place is small—65 seats in two rooms. Black-painted tin ceilings, grey suede-type banquettes, soft lighting provided by dressing room lights, lavender walls slathered with sexy vintage wallpaper, and a small bar (it is the same bar in structure and position as it was when the space was Le Gamin, if your memory serves). It's cozy, it's romantic, we're in. We're also in for the upcoming Battle of the West Village Closer Restaurant, between Charles and its block-east neighbor, Bobo (the latter of which we should mention, isn't a bitch to get into).
As for the food, it's respectable and in some cases very good, which is all a place like this needs. Proteins and starches are separated into mains and sides and most of the former are cooked in simple olive oil or similarly straightforward manner. The meal on Tuesday (four courses and an amuse) featured some hits and some misses, but to be fair, the kitchen here isn't really meant to serve 100 people at once and chef John McAllister (with the aide of DeLucie) is still tweaking his menu. When it opens, order the off-menu Charles Burger. Also, send our best to owners Cobi Levy and Doug Aiken when you do go, as with this posting the odds of us being blacklisted are somewhere around EVEN.
· Plywood: Les Deux Gamins to Become the Charles [~E~]For more stories from Eater, go to eater.com.
Copyright EATER