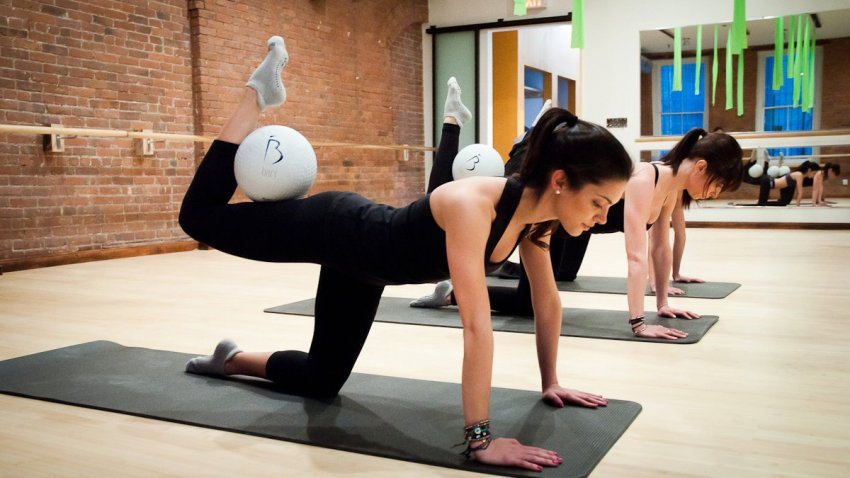 First things first – major points to Alexandra Perez for choosing Tribeca, the land of many mommies and surprisingly no barre studios – to open her new fitness creation, The Bari Studio. Talk about an untapped market.
Upon entering the Leonard Street studio, I was blown away not only by the beauty but by Alexandra's vision of the space. The Bari Studio is more than just a fitness facility. It is a place to learn about local artists and musicians, a place to help the environment, a place to learn about health through its partnership with Joule Body, a place to shop for merchandise by NYC talent, and a place to commit to taking care of your body.
You'll find exposed brick walls; a projector film of Bari and two friends dancing; a wall adorned with art by local artist Chris Choi (a new New York City-based artist will be featured every season); an iPod with two sets of headphones playing local artists and bands; reusable steel water bottles to use and return after class; tap water fountains; macha tea shots; an outdoor garden; Kombucha brewing in the kitchen; Method-brand natural soaps in the restroom; an entire studio devoted to kids' classes; and recycled wood lockers made right here in New York.
Of course, the workout is the real reason to visit The Bari Studio. Alexandra, who took fitness classes around the world but didn't find anything she loved, decided to get certified in Pilates and create her own. I am used to taking class from experienced fitness professionals, so I was curious to see how this newcomer's class held up.
I was impressed with the format of the Bari class, which is very different than a typical barre-class. The resistance bands suspended from the ceiling provided a fun challenge that added a unique element to the class. The movement from the barre to the mat and back to the barre was seamless. I especially loved the lunge series done at the barre, which flowed between different types of lunges – such as curtsy-style – while incorporating elements of dance in a nonstop sequence. Alexandra made my day when she announced there would be 32 push-ups during the class (the perfect exercise in my opinion) and she divided them up in between planks so they didn't seem nearly so daunting.
The music, which played through the clearest speakers I had ever heard in a workout class, was upbeat and fun, each song paced perfectly for its accompanying exercise. A little stage at the front of the room provided a perfect view of Alexandra's demonstration of the exercises. And did I mention that the classroom was stunning, with mirrors divided above and below the barre over exposed brick, sunlight streaming through the windows?
Individual hands-on correction from Alexandra would have benefited some of the students in my class – and would help prevent possible injuries due to incorrect form. As Alexandra becomes more comfortable teaching, I hope she will be able to focus on corrections and emphasize proper form.
It is clear that Alexandra cares about fitness and believes in her method, and she needs to bring that passion and energy to her teaching. For students, taking a class with the studio's founder turns an already-good class into a whole other experience. The founders' passion and belief in their own method is evident in their ability to inspire and motivate a room full of students for an hour of hard work. Alexandra gave instruction well and she clearly loves her workout, but her class lacked the intensity I would expect from a more seasoned instructor. Still, the hour flew by and I had a fun, encompassing workout.
Classes are $35 each and there are surprisingly no first-timer specials – a major impediment to new students shopping around for a new studio. There is a reason that workouts like Refine Method offer the first class free, exhale spa offers a week of unlimited Core Fusion for just $40 and Physique 57 offers two classes for the price of one.
Despite this, I have no doubt that The Bari Studio will find a devoted clientele with the Tribeca crowd. They need their barre class fix down there, and The Bari Studio provides just that, with a twist.
Dori Manela is a writer, content manager and social media consultant. Raised in Queens, Dori now lives in Manhattan, taking as many exercise classes in NYC as possible in search of the perfect workout. She started Dori's Shiny Blog in November 2007. As her passion for fitness grew, DSB turned into a health & fitness blog. With the help of her favorite social networking site Twitter, Dori has connected with other bloggers, boutique fitness studios, companies and readers to share her love of working out.