For some designers, "branching out" means putting their name on a pair of sunglasses or a sneaker collaboration. Not so for Cynthia Rowley, who just this week added "menswear" to the list of products bearing her signature sense of sophisticated whimsy.
That list, in case you blinked some time over the last ten years, has included (but is by no means limited to): books, Band-Aids, brooms, bridesmaids' dresses, mops, sponges, staple guns, sheets, diapers, delivery trucks, dishes, sewing kits, surfboards, shapewear, wetsuits, Winnebagos, web sites selling art, and of course, womenswear.
We often wonder how she does it, so we were particularly tuned in when Rowley talked about managing her brand - and her personal bandwidth - with Elle editor Nick Axelrod last week at FIT.
"Curiosity is the most important part of being a designer," said Rowley, who explained that she is constantly tuned into the zeitgeist, wondering what's coming next. Once she's latched on to an idea that inspires her curious nature -- say, the ubiquity of labels in our brand-happy culture -- her entrepreneurial instinct kicks in.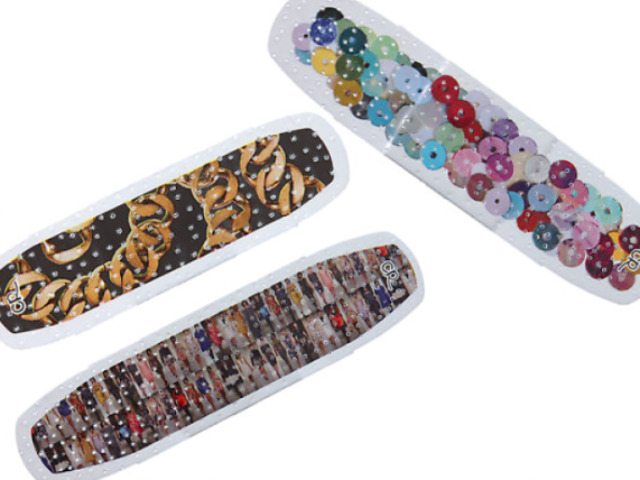 "Being an entrepreneur is about thinking expansively about everything you do," she said. She expressed her curiosity about labels, for example, with Warhol-ian sewing kits that came equipped with Cynthia Rowley tags for crafty fans to affix wherever they pleased. Then, it expanded.
"What if I did a label," Rowley remembered wondering, "that you could actually wear right on your skin?" And so was born the Cynthia Rowley Band-Aid, pictured at right. (We wonder whether Vivienne Westwood-style temporary tattoos are far behind.)
Rowley said it's not it easy to decide which projects are worth pursuing, and acknowledged that for a time she simply said "yes" to every opportunity that came her way.
"I would be like, 'we're doing it is, whatever it is,'" the designer remembered. "Do I want to design a thermostat cover? Definitely!"
Today, she said her company's president Peter Arnold plays a dad-like role in policing her projects. Beyond that, it's all about following her gut, and keeping up with her own curiosity. When an audience member asked about her proudest accomplishment, Rowley paused.
"I always think it could be more," she said.