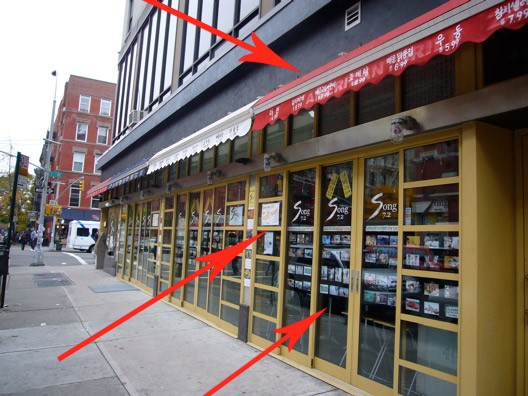 East Village: Sweet, sweet Song 7.2. If you'll recall this is the Korean restaurant that opened in the storied Kiev space just five days after sad mash-up American Grill/Go-Go Curry closed for good last May. We've recently noticed some curious and aggressive signage go up.
First, the awning, the same red, white, and blue from American Grill, now advertises specials painted over in Korean. Then we have posters with the new tapas menu—with pictures of the dishes—and signs advertising karaoke and happy hour specials. The real fun here though is the photo montage populating the large windows on the 7th Street side of the restaurant. In each pane, a dozen random artsy photos sit under a sign advertising the "Korean Restaurant & Bar New Tapas Menu".
· Eater Inside: Song 7.2 Opens in Under 5 Days!! [~E~]For more stories from Eater, go to eater.com.
Copyright EATER