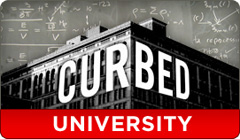 Curbed University, back in session after a quick fall recess (and on Saturday, no less). Didn't you hear, we've all been bailed out! Today, we're crossing off some more items on the preparation and search portion of our Homebuying 101 syllabus with a little help from our esteemed recent-buyer panel.
You've crunched the rent-v.-buy numbers. You've flirted with some brokers. You are so close to being ready to pound the pavement. But there are few more things you can do to make your life easier before you do. Here's a quick starter list:
1) Scour the 'hoods: All neighborhoods were not created equal. Do some due diligence. Schools, commutes, restaurants, retail. Basic stuff, but it's easy to get caught up in a shiny new development located exactly where you don't want to be if you haven't established where that is.
2) Get pre-approved: Unless you're paying all cash (God bless), you're going to need a mortgage. We'll cover the ins and outs of mortgages in a later lesson (provided there still are such things as "mortgages), but for now, we suggest starting by finding out how much mortgage you'll be able to get your hands on. A couple pointers from the panel: Pre-approval isn't the bare-your-financial-soul process that you may think it is. Says one recent buyer, "We filled out a one pager that had some basic info like salary and bonus. Fairly simple stuff." (Warning: results may vary.) And knowing how much spending power you'll have behind you will grease the skids when you do hit the market. "These days it seems that they won't even let you bid on an apartment if you don't have pre-approval," says another. So find a lender and ask them how much they'll lend you.
3) Get liquid: If you fall in love, you won't want to be caught in dirty underwear. Says a panelist, "Make sure the money is liquid and ready to go in case you find an apartment you like with a super aggressive seller." In other words, start unwinding that derivative portfolio now.
4) Take your renovation temperature: Be honest. Are you the kind of person who reads the reno blogs obsessively? That's cool and all, but you should make sure to plug that into your budget spreadsheet before you hit the listings. And, as another recent buyer points out, if you want to do the full overhaul, you should focus your search from the get-go on buildings that support that sort of project. (This is especially true if you want in on a co-op.)
That's all for now. Give it all you got in the comments, please.
· Curbed University [Curbed] For more stories from Curbed, go to curbed.com.
Copyright CURBD