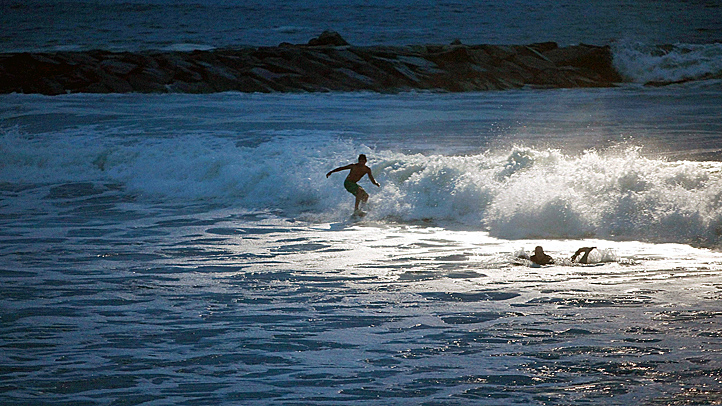 Today is July 4, which means barbecues, beer and fireworks, all in the name of America. In what has become an awesome annual tradition, today Mick Boogie and DJ Jazzy Jeff released the third installment in their Summertime mixtape series. Featuring, as always, Will Smith's "Summertime" as a jumping-off point, the tape runs through tracks from Nina Simone, Beach Boys, Chaka Khan, N.E.R.D., Stevie Wonder, and Maroon 5 (not as bad as you remember them to be, trust us). In honor of Boogie and Jazzy Jeff, we put together a little playlist of our own to chase the summertime blues away. Download the Summertime, Volume 3 here, and check our picks below.
AlunaGeorge: "Just A Touch"
This British songstress meshes her best Aaliyah impression with the type of delicate, progressive future bass music typical of her home at Tri Angle records. It's a perfect conduit for that particular feeling of summer love.
Jay-Z f. Sean Paul: "What They Gonna Do?"
We know it's crazy, but the best song on Jay-Z's completely not-bad Blueprint 2 double album was the one that featured Sean Paul. Laced with a Timbaland-produced beat that still sounds years ahead of its time, Sean Paul doesn't really have much to do here, other than play Jay's hype man. Jay doesn't really do much, either. He doesn't have to. The beat sounds like what we'll be listening to when we're sitting on the beach in the future. On the moon.
Frank Ocean: "Pyramids"
When Frank Ocean's album Channel Orange hits on July 17th, it'll be the type of album that either crowns him the heir to the soul throne once inhabited by the likes of Marvin Gaye, Stevie Wonder, Prince and D'Angelo, or it won't. Early reports -- including the ten-minute stunner "Pyramids" -- indicate that the hopeful have nothing to worry about. This one's great, too, because if you're grilling something for ten minutes it acts as a really funky timer.
Meek Mill f. Big Sean: "Burn"
Known as Rick Ross's ace in the hole, Meek Mill's Dreamchasers 2 tape was the type that elevates a rapper from a bit player to a star. He and guest Big Sean display amazing chemistry on this cut, trading lines over a slamming instrumental that's just about perfect for blaring out of a Camaro as you're about to beat somebody up for bad-mouthing America.
Meyhem Lauren f. Heems of Das Racist and Action Bronson: "Special Effects"
One of the better things about the 4th is just having a day for hanging out with your friends. "Meyhem Lauren, that's my friend," Heems begins his verse. From there on it's a Queens Rap extravaganza, all tough talk but through the trio's proximity to each other on the song, you derive a weird sense of friendship.