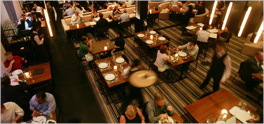 Grub Street confirms a rumor floated yesterday by Forbes: Tom Colicchio is closing his Craftsteak restaurant on 10th Avenue. And, as suggested, he'll be opening a new restaurant in its place. Called Colicchio & Sons Tap Room (trendy!), Tom Tom tells New York in an interview scheduled to run in next week's magazine that it will feature a menu of his creation and he'll spend much of the time in the kitchen alongside current chef Shane McBride. He revealed last month in an Eater interview that he was looking to open such a restaurant after having so much fun at the on year-old Tom: Tuesday Dinner, and it looks like this is the landing pad for that concept.
Colicchio says he is closing his two starred steakhouse, because the excitement has word down, because "people aren't really coming out for $100 steaks." Not this year they aren't.
The new restaurant will offer a menu of composed dishes—probably not divided into entrees and aps—ranging from $12 - 40. The front "Halfsteak" area of the restaurant will be a bar room with a raw bar, some pizza offerings, a hearth, and wood roasted meats. And no, there has been no word on what this means for Top Chef castings and viewing parties.

Copyright EATER