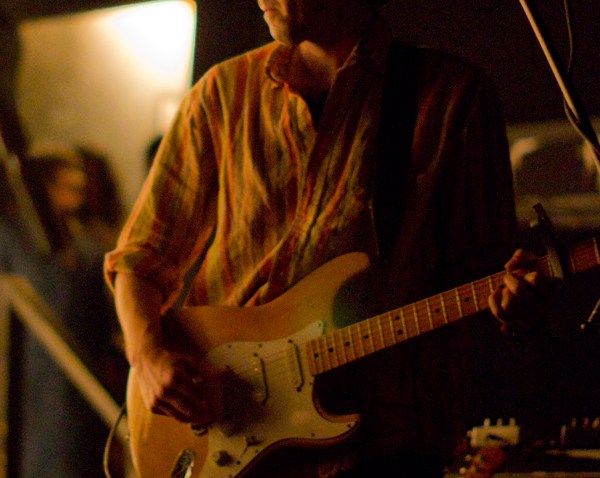 Bowery Ballroom was as much grange hall as nightclub Wednesday night, as Okie-folkie roots singer Frank Fairfield joined the prolific psych-folker Cass McCombs.
Fairfield opened the night solo. He threw down on banjo and fiddle and three-quarter sized guitar, each pulled out of Americana depths, as Andrew Bird might if he embraced his heritage rather than turned away from it. It's the kind of American music, before jazz appropriation, that demands that downbeat, barn-hall stomp. And Fairfield dug his foot into the stage with percussive zeal while flexing fingers around arpeggios and chords like a man possessed.
Spirits might have been present. Fairfield is as much history lesson as performance, recalling Hal Holbrook in presentation and Thomas Edison in discussion. He briefed the crowd on the history of recorded fiddle music and folk songs in general, pitching his voice like an aching barn roof, maybe not by choice. He's got that reedy kind of voice just shy of always cracking and the kind of tonality that's hard not to smile at, despite the tender sadness of the lyrics. The whole set bashed against the New Weird America, coming off as more Old Orthodox Americana.
McCombs opened with a bass-heavy "Love Thine Enemy," off 2011's Humor Risk, one of two excellent LPs the California-based songwriter put out last year. He played through a few others off that full-length, a smattering from its (seven-month) predecessor Wit's End, and a few older tracks including a warm "Equinox" from 2005's PREfection.
The crowd's biggest cheer came from a recent single McCombs debuted on Democracy Now, "Bradley Manning," referring to the imprisoned U.S. soldier accused of giving information to WikiLeaks. Shouts of "free Bradley!" were about the only mid-song cheers going on.
McCombs' homages become more apparent live: the textural grooves of
Nashville Skyline
Dylan, helped by the pedal steel of
Dan Lead;
the celestial glide and eventual skronk of
Will Canzoneri's
psychedelic keys, ala Pink Floyd; the straight-ahead and toned-down Charlie Watts-styled drumming of
Dan Allaire; the locked-in growl of Rob Barbato's bass.

And yet there's really no one like McCombs at present -- his crystalline voice, these psychedelic undertones, the poetic politics, hypnosis in repetition, folk in palette but punk rock in scope, drawing from the desert as inspiration in imagery and philosophy and mood.
Perhaps McCombs' aesthetic is best summed up by a powerful line delivered early in the night: "I believe in stealing because you cannot possess anything."
All influence is up for grabs, just so few pull from so much with as much subtlety and taste as Cass McCombs.