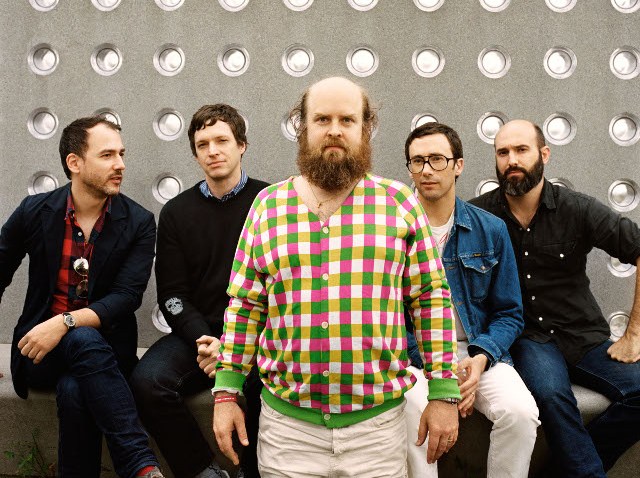 Pumping out perfect post-punk rock since the 90's, Les Savy Fav is a true live spectacle. Their shows are rife with wildcard antics courtesy of their unpredictable front man Tim Harrington, but the glue that binds this band is the tight musicianship. After a tour of Australia, the band has returned home and is planning to celebrate on Wednesday, February 16 at the Bowery Ballroom, (tickets). Nonstop Sound caught up with bassist Syd Butler upon his return home to his family. Butler takes a few precious moments to fill us in on what he thinks is great about the Big Apple.
As a New York based band, whats the benefit of playing hometown shows? The biggest benefit by far is sleeping in your own bed. Hotels are nice, but there are meant for one or two nights. No hotel in the world is nicer than your bed with your wife sleeping next to you. Also, I am lucky enough to wake up in a city that I love above all others. Regarding the actual shows themselves? To play a sold out show in New York feels the best for me. You are playing with your home crowd, your friends and family. Did i mention the food in NYC? You can also eat the best pre or post meal to celebrate. No offense to Cleveland.

You've played a number of NYC venues over the last ten years. What has been your most memorable experience? For me personally, It was selling out the Bowery Ballroom for the first time or the Arcade Fire and LCD Soundsystem show at Randall's Island. They both had the perfect atmosphere.

It's 4:00am and last call has come and gone, what's next? Are there any speakeasies, late night eats or after party spots you frequent? I used to be under 30 and those were the days of late nights and speakeasies. Now at 4am instead of drinking a bottle I am making one for my 2 year old son.

What is your local watering hole? Why? It used to be Beauty Bar on 14th because I lived above it. It has shifted over the years though as I live on the lower east side. 2A is a staple. Sometimes when I eat with the grand-parents, I'll have a nice one at Barrio Chino.

You own Frenchkiss Records, the home of Les Savy Fav. If you were putting the full-court press on a band you're extremely eager to sign, where would you take them to eat? What menu item is not to be missed? I love Mumofuko, Sasebune for Sushi, Barrio Chino, Brown or a place they want to try. I have a lot of lunches with lawyers and managers at Coffee Shop. The latter seem to like it there, the former usually like a burrito or beer.

Les Savy Fav recently toured Europe, what is the best part of coming home to New York? There are AMAZING places in the world. Cites I love and have always considered moving to if I HAD to leave NYC - Barcelona, Paris, Dublin, Vancouver, Montreal, Sydney and yes, even LA. But New York has everything I am interested in all the time. When I want it to be relaxing it is and when I want a thrill ride, I walk out my door. I am a HUGE Ice hockey fan. The fact I can get highlights from the Devils, Islanders and Rangers is fantastic. I feel with other cities they show their best side right away. They almost seem one dimensional. New York is always in 3D.

Good or bad, have you ever had what you would describe as a quintessential New York moment? I have them weekly. I was once robbed at gun point on NYE and met my wife at SNL. I saved a mans life who was stabbed in front of me and witnessed the birth of my children here. I have seen the best music the world has to offer as every band wants to play NYC/Brooklyn. I am truly blessed.

NYC has all sorts of tourist attractions Central Park, the Empire State Building and the Statue of Liberty to name a few. What's the most touristy thing you've done lately? I went to my dentist on 59th and Columbus Circle and walked down to 42nd through the belly of the tourist beast. Does that count?

Finish this sentence: New York City is the sweetest place on earth because… I think if you just end it there with one period. We are one family. A pride of lions. To quote AC/DC "I feel safe in NYC".