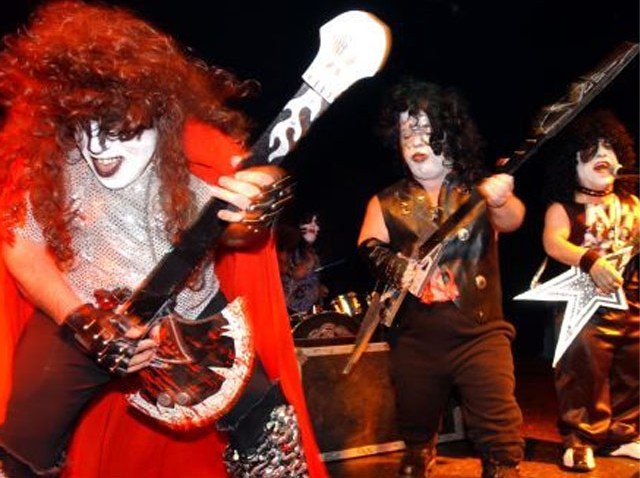 SMALL WORLD: Carnival club above Bowlmor Lanes holds its first holiday bash, starring the hottest little band on earth: Mini-Kiss. Their musicianship is so ace, we'd go see them even if they weren't a Kiss cover band made up entirely of little people. If only there was a mini Adam Lambert on hand to join them. Saturday, 9PM.
WARMER: You and a gaggle of other cocoa-loving maniacs will brave the cold, tacking from establishment to establishment for the pay-as-you-go December Hot Chocolate Crawl, organized by NYC Food Crawls May we recommend a hip flask filled with bourbon for spiking? Meet up in Washington Square Park on Sunday at 3PM.
GOES TO 11: Time to brush up on the complex lyrics to "Tonight I'm Gonna Rock You Tonight": Closing out 92YTribeca's successful Sing-Along series for 2009 is the "This is Spinal Tap" Sing-Along, the mockumentary about everyone's favorite faux has-beens of British rock. Smell the glove, people. Saturday, 11PM.
SQUEEZEBOX: Nothing says 'yuletide' like a passel of dressed-up ladies making their accordions wheeze. The wonderful, Weimaresque Main Squeeze Orchestra Holiday Extravaganza takes over (le) Poisson Rouge on Sunday, 8PM.
Got a tip? Email us.
Copyright FREEL - NBC Local Media