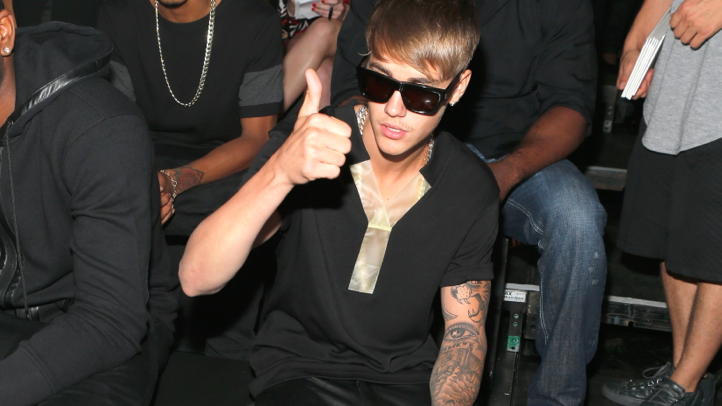 If you weren't glued to Twitter this weekend clicking through the latest NYFW updates, we've got you covered. Here, the latest buzz from the tents.
* Rumors are circulating that Miley Cyrus' forthcoming Vogue cover was canceled due to the raunchy starlet's twerky antics at the MTV VMA's. [Fashionista]
* As if Alexander Wang's edgy urban-goth aesthetic weren't distinctive enough, the designer smothered his latest collection in logos—a nod, once again, to the 1990s, which are trending big for next season. Where's Naomi Campbell when you need her? [Fashionista]
* Oh, wait, she was at Diane von Furstenberg. In a surprise appearance, the long-limbed supermodel closed the show in a sassy printed mini. [Instagram]
* We've seen holograms, live performances, even interactive graphics (like the one at the Phillip Lim for Target launch), but Prabal Gurung may take the cake for most unusual Fashion Week experience. His spring '14 collection—shown inside the Moynihan Post Office building—was scented like roses. [NYTimes]
* Scott Sternberg collaborated with Manolo Blahnik on a collection of sandals with sporty, sailing-rope flourishes. [Style.com]
* Kanye really made the rounds on Sunday, hitting Hood by Air, Louise Goldin and—his longtime fave—Alexander Wang. [The Cut]
* Likewise, Justin Bieber (clad in impractical dark shades—maybe he was trying to stay incognito) made an appearance at the Opening Ceremony show. [@JustJared]
* Hats have had a few memorable appearances on the runways this week, but none were quite so outrageous as the Popsicle-stick toppers at Tibi. Stock up on Elmers glue—time for a crafting session. [Style.com]
For the latest on NYFW, follow @blairpfander and check our special Fashion Week section for daily updates.