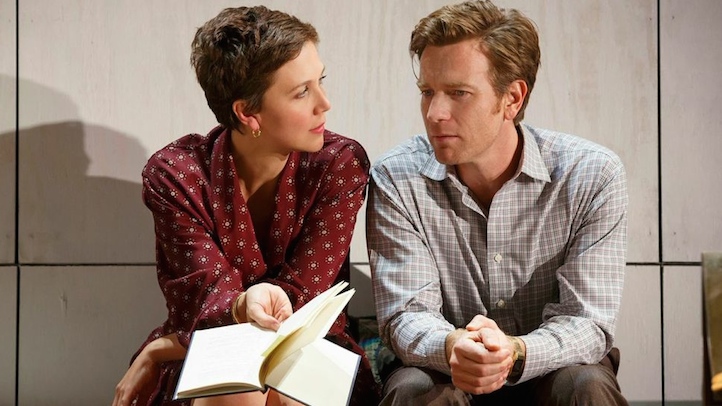 If you haven't been lucky enough to find love, watching a romantic comedy can feel wonderfully hopeful and utterly hopeless at the same time. It's that perfect mixture of "Someday my prince will come" and "What's taking him so long, dammit?" As if all of life's problems will magically disappear when you finally find the real thing.
Of course, anyone who's actually experienced love knows it doesn't work that way. Love brings complication. Inconvenience. Compromise. There can be hurt feelings. Anger, jealousy and a whole lot of pain.
You'll see much of that in Tom Stoppard's darkly comic "The Real Thing," now open at the American Airlines Theatre. Our characters in this masterful revival from the Roundabout Theater Company are all in the throes of the messiness that is love. And the ways in which they sort out their intentions from their actions will leave you looking at love in a whole new light.
At the center of our story is Henry (Ewan McGregor), a pompous intellectual playwright who loves sincerely, though lacks the finesse to express his genuineness. Henry's wife Charlotte (Cynthia Nixon) is an actress whose skeptical approach to life is born out of an inherent distrust of her husband and desire to challenge him at nearly every pass.
Charlotte is right to be skeptical of Henry, as he's carrying on an affair with a sentimental and sultry actress named Anne (Maggie Gyllenhaal). Said affair has awakened an excitement in Anne, who feels liberated from the love given to her by her dull husband Max (Josh Hamilton). But as Anne learns, finding the real thing will be much harder than just starting a new life with Henry.
When Stoppard's play first premiered on Broadway in 1982, it was praised for its portrayal of complex, mature relationships, far different than those often shown on stage. From the first scene, the playwright manipulates the line of reality and artifice, leaving us questioning where the truth lies in complex life issues like romance and art.
In 2014, Stoppard's words are just as poignant; his ideas just as needed. Several scenes will punch you in the gut with their rawness. Others will make you see things so clearly, you'll wonder how your eyes had been shut so long. I found myself wishing I had a copy of the script in my hand so I could underline passages to reread later or post to my Instagram feed.
It helps that Stoppard's words are in the capable hands of this production's superstar cast (pictured above). McGregor and Gyllenhaal give effortless, poised performances as Henry and Anne, and their chemistry is magnetic. Stoppard's work is so verbose, and it can be hard to see the humanity of the characters through the weight of what they're saying. But McGregor and Gyllenhaal find ways to ground their characters in each moment. You believe them, even if the play doesn't want you to sometimes.
Though both actors have done extensive work on the stage before (McGregor in London, Gyllenhaal off Broadway), "The Real Thing" is their Broadway debut. It was well worth the wait. One gets the feeling these actors, known for darker, grittier roles on film, couldn't have played the levels of Henry and Anne as effectively a few years ago.
Hamilton, last of "Dead Accounts," is likeable, though forgettable as Max — a problem more to do with the way his character is written than the way in which Hamilton portrays him. He's overshadowed mostly by Nixon, a Tony winner for 2006's "Rabbit Hole," in a commanding supporting performance. Nixon finds much fun in Charlotte's sass, proving she's more of a Samantha than a Miranda.
It's not Nixon's first encounter with "The Real Thing." At 17, she originated the role of Charlotte's daughter Debbie in the 1983 Broadway production. At the time, Nixon was also starring as homeless teen Donna in "Hurlyburly." She would do that role in Act One and then walk two blocks south to play Debbie in Act Two of "The Real Thing."
In this production, Debbie is played by newcomer Madeline Weinstein, who colors her character with a perfect blend of Nixon's cynicism and McGregor's charm. She shares one of the play's best scenes with McGregor, and their bond will make you think you've been interacting with your parents entirely wrong all these years.
Director Sam Gold ("The Realistic Joneses") has made some beautiful artistic choices that only elevate"The Real Thing" beyond its already polished form. For one, he's utilized a modern, abstract loft space by designer David Zinn ("The Last Ship") as the setting for all our action, never letting the audience know exactly where or when each scene is taking place.
For another, Gold's found a fascinating way to incorporate music into the piece. Characters often gather together, singing along (in harmony!) to cheerful pop love songs like "Sugar, Sugar" and "I'm Into Something Good." These performances don't just serve as a bridge between scenes, but also as a commentary on love, and how people are moved by real music. (And yes, "Moulin Rouge" fans, you will get to hear McGregor sing).
You'll walk out of "The Real Thing" with a lot to chew on. If there's one thing I learned, it's that in order to make relationships really work over time, you'll need a lot more than just finding that prince. You also have to be able to recognize when you've found the real thing.