On paper, it's hard to believe the stunning and original new musical "Dear Evan Hansen" would work as perfectly as it does.
Now open at Broadway's Music Box Theatre after an acclaimed run at the Second Stage Theatre last spring, it tells the story of an anxiety-driven teen named Evan Hansen who pretends to be best friends with a stoner boy at school after the loner commits suicide.
Creating a web of lies and false documents to prove their bond, Evan rides his manipulation to popularity among his peers, a surrogate relationship with the boy's family, a romantic relationship with the boy's sister — and even internet stardom.
Rarely has there been a protagonist so morally flawed. Evan's not murdering people like Sweeney Todd did, of course. But the way in which the 17-year-old unintentionally preys on the vulnerable and tricks those on social media into believing his hero narrative, you'll want to hate Evan for his corruption.
But the fact that you don't hate him — and in fact, root for him — has a lot to do with star Ben Platt's gut-wrenching performance.
In the hands of another actor, Evan could easily play as a self-absorbed geek. But the 23-year-old "Pitch Perfect" alum so supremely embodies Evan's anxieties and complexities, you can't help but relate. It's a raw, full, and frighteningly realistic performance unlike any seen — and one that will surely propel Platt to stardom. (Start prepping that Tony speech now, Ben).
Platt's brilliance can be seen clearly throughout, but it's in numbers "Waving Through a Window" and "Words Fail" where he truly shines. The first gives Platt the opportunity to showcase his rich tenor and his character's "outside looking in" mentality, while the latter finds a tearful and fragile Platt allowing Evan to face the realities of his own inner demons — and doing the unthinkable: forgiving himself.
Bring tissues. They'll come in handy there, and in a few other spots throughout the show.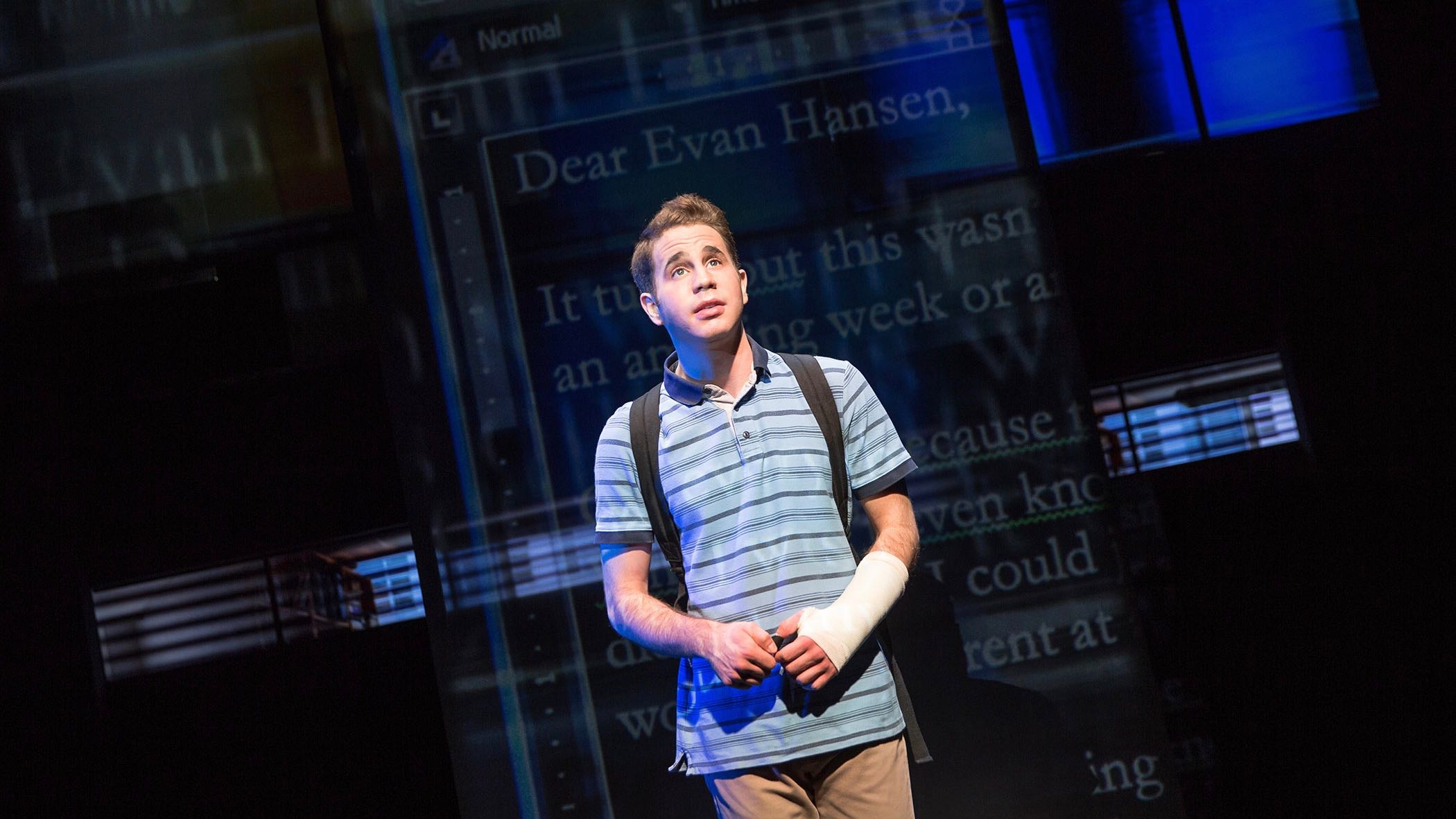 Platt won't be the only one receiving acclaim for "Dear Evan Hansen." Songwriters Benj Pasek and Justin Paul have written one of Broadway's most exciting and catchy new scores. The songs are reminiscent of those from piano-driven singer songwriters like Ben Folds, yet each tune sounds fresh and authentic to its character. (The cast album releases Feb. 3, 2017, and you'll want it immediately).
Pasek and Paul are also the writing team behind the lyrics to the new Emma Stone and Ryan Gosling musical film "La La Land," which is poised to be a major Academy Awards contender. After a string of critically-acclaimed musicals like "Dogfight" and a handful of tunes for NBC's "Smash," the duo have clearly delivered a one-two punch here.
Much love should also be thrown towards book writer Steven Levenson, who has done wonders crafting a story filled with characters and dialogue that expertly avoids the cliché. (It's loosely based on a real experience Pasek had in high school). As the piece races towards its inevitable conclusion, Levenson finds surprises along the way while never failing to explore his characters' often-conflicting emotions.
Broadway veterans Michael Park ("Tuck Everlasting"), Jennifer Laura Thompson ("Footloose"), Laura Dreyfuss ("Hair"), and Mike Faist ("Newsies") are strong anchors the musical's cast of eight, while newcomers Will Roland and Kristolyn Lloyd give memorable debuts. There's not a false note given by any of them.
"Pippin" standout Rachel Bay Jones is especially good as Evan's mom Heidi — a well-intentioned single mom who struggles to say the right thing and connect with her son between shifts working as a nurse's aide and studying to be a paralegal. Jones delivers a masterfully delicate and grounded performance. When she finally breaks through to Evan, in the showstopping "So Big/So Small," it's Jones who will break your heart.
Director Michael Grief, of "Rent" and "Next to Normal," has done a remarkable job at managing the show's many messages. With the aid of set designer David Korins ("Hamilton"), he interweaves social media into the story in a smart way (it brings the show's anthem "You Will Be Found" to new heights, for one). Choreography by Danny Mefford ("Fun Home") is understated, but effective.
What's so profound about "Dear Evan Hansen" is how it exposes its audience to the things we hate the most about ourselves, and reminds us all that we're worthy of loving ourselves in spite of them. The false identity Evan creates might allow him to feel like he belongs more than he ever did as himself, but it's ultimately a futile effort. Our dear Evan Hansen will only ever feel love from others once he learns to love the ugliest versions of himself. Bravo.
"Dear Evan Hansen," at the Music Box Theatre, 239 W. 45th St. Tickets: $69 - $175 Call 212-239-6200 or visit DearEvanHansen.com.