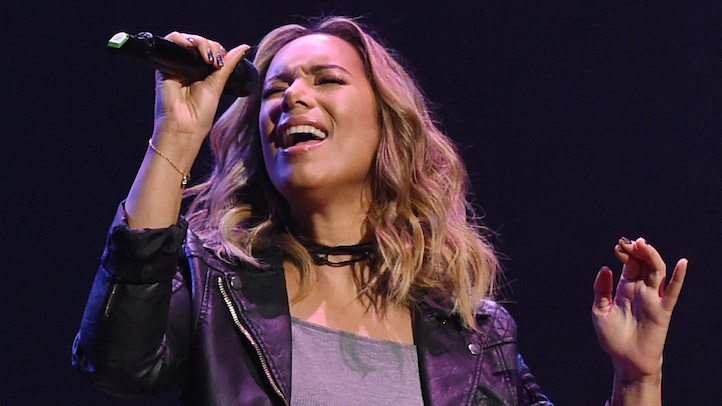 U.K. pop star Leona Lewis has been cast in the coveted role of Grizabella in the anticipated revival first U.S. revival of Andrew Lloyd Webber's Tony-winning musical "Cats."
The "Bleeding Love" singer will make her Broadway debut in the production, which begins performances at the Neil Simon Theatre on July 14, with an official opening set for Aug. 2.
"Can't even believe this," Lewis said in a tweet. "I'm thrilled and honored to announce I'll be playing the part of Grizabella in 'Cats'. "
The role was originated on Broadway by Betty Buckley, who would later win a Tony for her performance. The character sings "Memory" -- the most famous song in the show.
Webber had previously speculated that former Pussycat Dolls singer Nicole Scherzinger would lead the New York production, reprising her role from the 2014 West End Revival. Scherzinger, however, declined the rolling, announcing she'll be filming the next season of the U.K.'s "X-Factor" and therefore would be unable to star in the revival.
Webber lashed out against Scherzinger upon hearing the news. "I'm furious because I really believe she's the most fantastically brilliant girl and I went out on a limb to get her at the Palladium and now I look like an absolute t--- with them all," he told the Economist Radio.
"Nevermind, there will be another girl on Broadway and Nicole will not get her Tony Award," Webber added.
Scherzinger later replied to Webber's harsh words. "I had every intention of doing 'Cats' on Broadway but the contract was never finalised," she explained to the RadioTimes. "I am incredibly blessed to be given so many amazing opportunities, including 'Cats', but unfortunately we weren't able to make it work this time around. I adore and respect Andrew, I'm so grateful for our friendship and can't wait for the opportunity to create more magic together."
Webber congratulated Lewis' casting in a tweet, welcoming her to "#TeamALW."
Featuring a score by Lloyd Webber with lyrics by T.S. Eliot, Trevor Nunn and Richard Stilgoe, "Cats" is based on Eliot's "Old Possum's Book of Practical Cats," telling the story of a pack of "Jellicle cats."
The musical opened on Broadway in 1982, and went on to play 7,485 performances. It holds the title as the second longest running Broadway show of all time (Lloyd Webber's "Phantom of the Opera" holds the top spot).
Original director Trevor Nunn and scenic and costume designer John Napier will return for the Broadway revival -- which comes 15 years after wrapping up its record-breaking original run. New to the team is choreographer Andy Blankenbuehler ("Hamilton"), who will base his design on Gillian Lynne's original choreography and associate direction.
Since its 1981 premiere in London, "Cats" has been presented in over 30 countries, translated into 15 languages and been seen by more than 73 million people worldwide.
For tickets and information, visit CatsTheMusical.com.