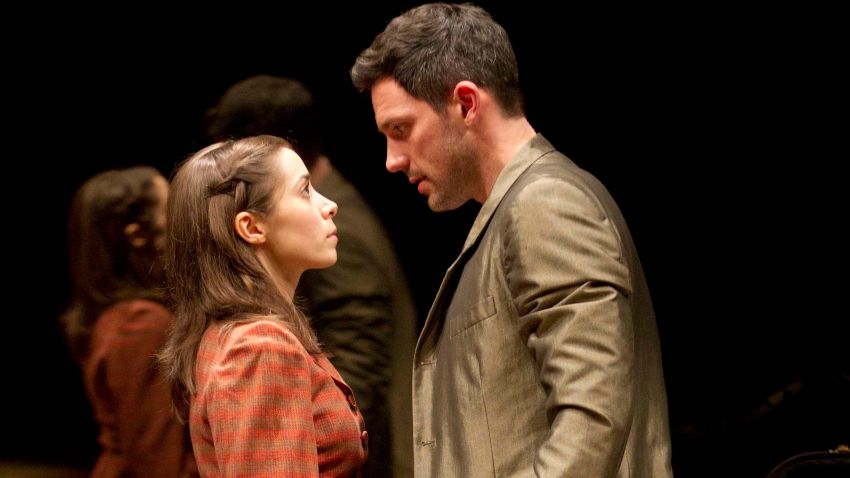 Steve Kazee, Tony-winning star of the musical Once, explained his early departure from last year's Best Musical in a message to fans on his personal Web site Monday afternoon.
Kazee, who had played "Guy" opposite Cristin Milioti's "Girl" since the show's March 2012 opening, went on vocal rest after the Feb. 6 show; subsequently, producers said last week that understudy Ben Hope would take over the role full-time. At the same time, they said Milioti would be succeeded by actress Laura Dreyfuss, who had appeared in the Broadway revival of "Hair."
In the note on his Web site, Kazee wrote: "This is not how I had imagined the run of the show would end for me and to say it has been disappointing would be understating it quite a bit. ... I have been on vocal rest since my diagnosis to help heal up the swelling and to reduce inflammation around a blood vessel that was lying over (the) top of the swollen area."
Kazee said he expects to be back to 100 percent "within a week or two." He said that he had planned to extend his "Once" contract through September, but decided against it on the advice of his doctor.
"I am truly sorry that I wasn't able to be there to finish out this run, as I know many of you came to see the original cast of 'Once.' ... I know many of you were concerned about me because of my absence from social networks so I want to let you know that my absence was what I felt was most respectful to the show, to the cast, and ultimately to the audiences of 'Once,'" Kazee said.
"Once," which won eight Tony Awards, tells the story of an Irish musician and a Czech immigrant drawn together by their shared love of music. It's a stage adaptation of the 2006 film with songs by Glen Hansard and Marketa Irglova.