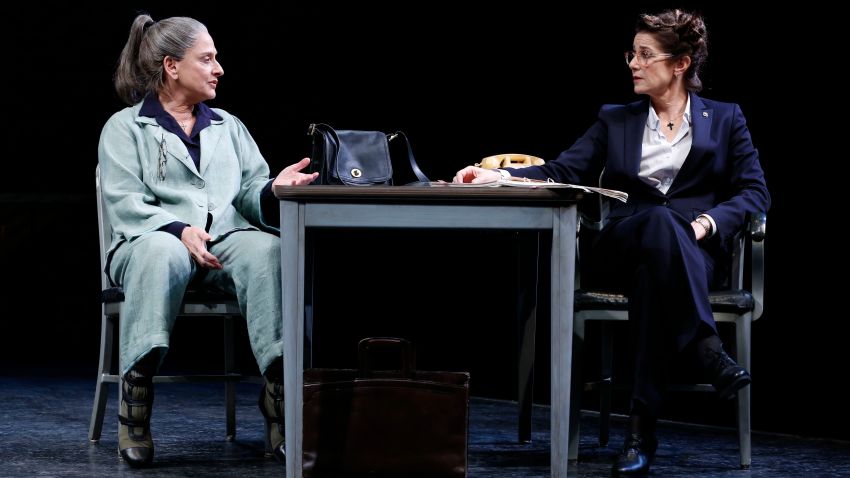 Patti LuPone has been paroled from a show that earned winning reviews for her performance, but didn't live up to expectations for its story or her famous co-star.
"The Anarchist," the much-anticipated prison-set drama from David Mamet starring Lupone and Debra Winger, will end its Broadway run on Dec. 16, after just 17 performances at the John Golden Theatre. It had been scheduled for a 14-week engagement.
"The Anarchist" was the rare Mamet drama focusing on two-women, a 70-minute dialogue between a leftist radical (LuPone) and the state official who may or may not grant her parole after a 35-year incarceration (Winger, making her Broadway debut). Mamet was also directing the play, which included less profanity than theatergoers usually get in one of his dramas.
Critics generally lauded LuPone's work but many felt Winger was a bad casting choice. In The Hollywood Reporter, David Rooney said the play was "a poor fit for Broadway and a $130 top ticket."
Don't feel too bad for the playwright: Mamet's "Glengarry Glen Ross" revival, starring Al Pacino, will open Saturday at the Gerald Schoefeld, in a performance that The New York Times argues today is, fairly or not, critic proof.
Meanwhile, the musical "Scandalous," which featured a book and lyrics by Kathie Lee Gifford, will shut down Sunday at the Neil Simon Theater, after 29 regular performances. "Scandalous" starred Carolee Carmello as early 20th century evangelist Aimee Semple McPherson.
Writing in The Times, critic Charles Isherwood said the musical "isn't so much scandalously bad as it is generic and dull."