If Jennifer Lawrence wants the world to see her topless, it'll be on her terms. Posing shirtless for fashion photographer Patrick Demarchelier, the 24-year-old actress covers Vanity Fair's November issue. In the profile, Lawrence breaks her silence about having dozens of nude pictures stolen and distributed online.
"I was just so afraid," she says. "I didn't know how this would affect my career."
The actress, who has always been guarded about her private life, was shocked when the photo leaked. "Just because I'm a public figure, just because I'm an actress, does not mean that I asked for this. It does not mean that it comes with the territory. It's my body, and it should be my choice, and the fact that it is not my choice is absolutely disgusting. I can't believe that we even live in that kind of world," she opines.
Lawrence was tempted to write a statement in August, but reconsidered. "Every single thing that I tried to write made me cry or get angry. I started to write an apology, but I don't have anything to say I'm sorry for. I was in a loving, healthy, great relationship [with Nicholas Hoult] for four years," she recalls. "It was long distance, and either your boyfriend is going to look at porn or he's going to look at you."
NEWS: Josh Hutcherson defends Jennifer Lawrence after nude photo leaks
The actress, who is currently dating Coldplay's Chris Martin, wants to clarify something about the invasion of privacy: "It is not a scandal. It is a sex crime. It is a sexual violation. It's disgusting," she says.
"The law needs to be changed, and we need to change. That's why these websites are responsible," she continues. "Just the fact that somebody can be sexually exploited and violated, and the first thought that crosses somebody's mind is to make a profit from it. It's so beyond me. I just can't imagine being that detached from humanity. I can't imagine being that thoughtless and careless and so empty inside."
Actresses Kirsten Dunst and Gabrielle Union have previously spoken out about the leaks.
The F.B.I. is currently investigating the photo hacking, and attorney Martin Singer is representing 12 unnamed "actresses, models and athletes" whose private photos were stolen and published online. In addition to threatening a $100 million lawsuit, Singer alleged that Google did not act "expeditiously and responsibly" to remove the images from its search results. Singer also claimed that "pervert predators" had stolen the pictures from his clients. Google later responded, saying, "We've removed tens of thousands of pictures, within hours of the requests being made, and we have closed hundreds of accounts...The Internet is used for many good things. Stealing people's private photos is not one of them."
Jimmy Fallon, Will.i.am Rap About What Makes Them Say "Ew!"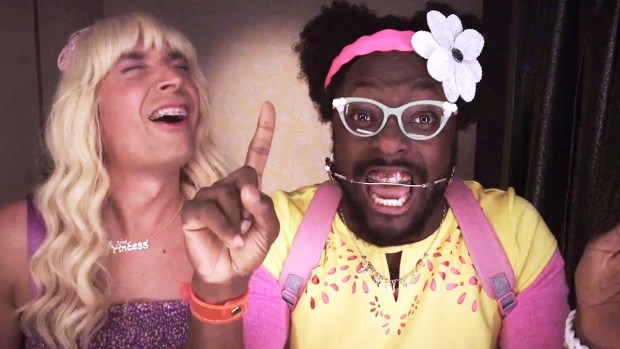 PHOTOS: Jennifer Lawrence's best red carpet looks
Lawrence finds fault with people who viewed the photos, too. "Anybody who looked at those pictures, you're perpetuating a sexual offense. You should cower with shame," the "American Hustle" actress tells the magazine. "Even people who I know and love say, 'Oh, yeah, I looked at the pictures.' I don't want to get mad, but at the same time I'm thinking, 'I didn't tell you that you could look at my naked body.'"
One of the worst parts of having her privacy invaded in such a public manner was that she had to call her father to tell him what happened. "I don't care how much money I get for The 'Hunger Games.' I promise you, anybody given the choice of that kind of money or having to make a phone call to tell your dad that something like that has happened, it's not worth it," Lawrence says of the humiliating ordeal.
"Fortunately, he was playing golf, so he was in a good mood," she jokes.
Much like her character in the "Hunger Games: Mockingjay," Lawrence is soldiering on. "Time does heal, you know. I'm not crying about it anymore. I can't be angry anymore," she tells Vanity Fair. "I can't have my happiness rest on these people being caught, because they might not be. I need to just find my own peace."