Michael Gargiulo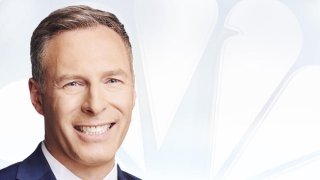 Emmy® Award-winning journalist Michael Gargiulo serves as the Co-Anchor of Today in New York, airing every weekday between 4 a.m. to 7 a.m.
A native of Manhattan, New York, Gargiulo grew up just blocks away from WNBC's studios at Rockefeller Center. He began his career at WSAZ-TV in Huntington, West Virginia then moved to WYOU in Scranton, WLKY in Louisville, KSTP in Minneapolis, Hearst Argyle Washington Bureau, and WTTG in Washington before coming home to New York at WNBC in 2006.
Gargiulo has covered many of the Tri-State's most memorable stories including Breezy Point, Queens after Superstorm Sandy in 2012, in 2018 the steam pipe explosion in Manhattan's Flatiron District and reported from the 2021 Inauguration of President Biden from Washington, D.C. He has a special interest in military affairs and flew with New York's National Guard on a special relief mission to Puerto Rico in the immediate aftermath of Hurricane Maria. He previously earned an Emmy® Award for his reporting from Iraq and Kuwait and was one of the last reporters to be embedded with a U.S. military unit in Afghanistan before the end of combat operations.
Gargiulo's anchoring was a key component of NBC 4 New York's award-winning COVID-19 coverage, honored in January, 2021 with the prestigious Alfred I. duPont-Columbia University Award for "creat(ing) a 360 view in real time of the coronavirus pandemic, with courageous and thorough reporting on the virus's explosion in New York City." The duPont has long been recognized as the broadcast, documentary and on-line equivalent of the Pulitzer Prize, also awarded by Columbia University.
Gargiulo is a proud graduate of New York University and Xavier High School and enjoys mentoring young journalists throughout the region. He also leads the New York chapter of the RIAS Berlin Commission, an international journalist exchange program.
Gargiulo lives in Westchester with his wife and two children.