Adelle Caballero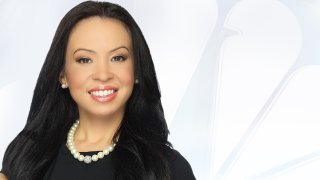 Adelle Caballero is the Traffic Anchor for NBC 4 New York's "Today in New York," airing weekdays from 4 AM to 7 AM. A life-long resident of New York and New Jersey, Caballero has been delivering up-to-the-minute traffic reports for more than two decades. She joined NBC's flagship television station on a full-time basis in February, 2022.
Prior to joining NBC 4, Caballero worked for nearly a decade at NY1. One of the station's first on-camera traffic anchors, Caballero worked closely with management, producers and tech crews to launch their dedicated, 24-hour traffic channel. She covered Hurricane Irene, Superstorm Sandy and the 2016 Blizzard during her time at NY 1, in addition to delivering special feature reports, including on New York Fashion Week. 
Caballero joined NY1 after work as a traffic reporter for News 12 Traffic & Weather, covering road conditions throughout the Tri-State area. She began her professional career with Total Traffic, where she produced traffic reports for several Tri-State Clear Channel radio stations including Z-100, 103.5 KTU, Q104.3, Power 105.1 and 106.7 Lite FM.
Passionate about her community, Caballero believes in giving back and making a difference at home. She has supported local organizations and efforts which promote mental health, fight human trafficking and combat homelessness and food insecurity. She enjoys travelling, embraces the Tri-State's cultural diversity and is passionate about her Filipina, Romanian and German heritage. She is verbally conversant in Tagalog.
Caballero holds a degree in broadcast journalism from Pennsylvania State University. She is married to her childhood best friend and they reside with their son in New Jersey.