Denver Coach: 'Melo's Defense 'Frustrated Us'
"Unbelievable," 'Melo tweets in response.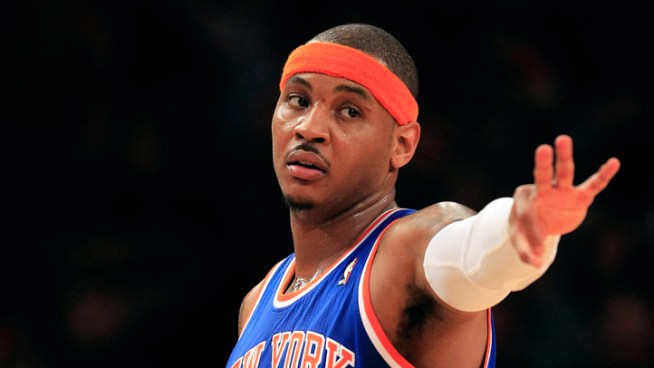 Getty Images
NEW YORK, NY - FEBRUARY 23: Carmelo Anthony #7 of the New York Knicks on the court against the Milwaukee Bucks at Madison Square Garden on February 23, 2011 in New York City. NOTE TO USER: User expressly acknowledges and agrees that, by downloading and/or using this Photograph, User is consenting to the terms and conditions of the Getty Images License Agreement. The Knicks defeated the Buck 114-108. (Photo by Chris Trotman/Getty Images) *** Local Caption *** Carmelo Anthony
While Carmelo Anthony's arrival in New York was a celebratory occasion around here, the man who coached Anthony in Denver has other things to say about his former player.
During Thursday night's Nuggets-Celtics game, George Karl told TNT that "'Melo is the best offensive player I've ever coached, but his defensive focus, his demand of himself is what frustrated us more than anything."
Anthony's response, via Twitter: "… are u serious. Some people never seize to amaze me. Unbelievable." Shortly followed by: "WHEN THE GRASS IS CUT THE SNAKES WILL SHOW."
When asked about Karl's remarks on Friday, Anthony offered this:
"That's him. That's George Karl so I don't really try to pay too much attention to that. I know what I've done there in the seven-and-a-half years I've been there; going to the Western Conference Finals. Last year, we were top five in a lot of categories. All that stuff, I don't know where it's coming from. I try not to pay too much attention to it."
The Knicks have struggled defensively this season. John Hollinger, ESPN.com's NBA writer and stats guru, called the Anthony acquisition one that includes "great offensive value and minimal defensive motivation."
The Knicks (29-26) travel to Cleveland to face the Cavaliers (10-47) Friday night before facing off against the Heat on Sunday.