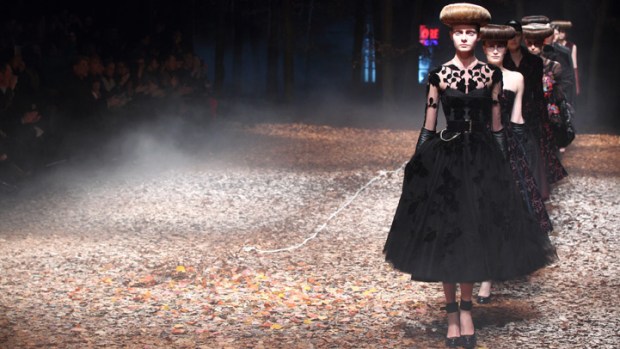 Getty Images
McQ by Alexander McQueen stages its first-ever runway show in London.
Alexander McQueen's secondary line, McQ, staged its first-ever runway show at London Fashion Week on Monday, and apparently it was everything one would expect of a main line show and more. The event featured a runway filled with dead leaves, a model doing ballerina-like choreography, and an after-party held in a house within a small forest, according to Fashionista. Gauging from this visual alone, the collection looks very similar to the main McQueen collection, though McQ is definitely more affordable.
On the day that McQueen died in 2010, the latest McQ collection was scheduled to be unveiled at New York Fashion Week, but was canceled shortly after news of his death had spread through the shocked fashion community. By late 2010, after Sarah Burton had already established herself as a strong replacement for the late designer, the label regained complete control of the secondary line and Burton began overseeing a group of designers manning the label. Now, it seems McQ has moved onto even grander fare, and looks that are most definitely runway-ready.