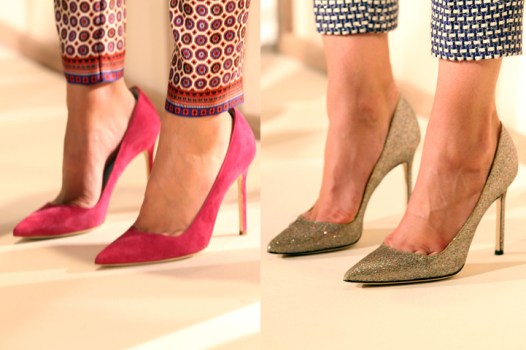 Getty Images
Manolo Blahnik-designed pumps at the J.Crew Fall 2012 presentation.
While Tuesday morning's J.Crew presentation was fun to look at for a number of reasons -- the prints! the knits! the sequins! -- more than a few attendants were particular taken with the shoes, which were iconic-looking pumps rendered in a variety of fabrics.
In fact, the shoes were the work of legendary shoe designer Manolo Blahnik, and here's a big of good news: J.Crew will be selling the shoes -- a classic Blahnik "BB" silhouette, rendered in exclusive J.Crew colors and prints -- online come Fall 2012. Considering most of J.Crew's "In Good Company" partner brands are sold at traditional price points, we're betting that the shoes will end up costing approximately what Manolo Blahnik's pumps typically do -- about $595. But considering the pitch-perfect palette of J.Crew's fall line, we're betting more than a few ladies will be snapping these up.