Unsettled weather stormed into the tri-state area Sunday evening after an unusually blazing hot May weekend, triggering severe thunderstorm warnings for tens of thousands as a line of powerful storms rolled through.
Severe thunderstorm warnings were issued for New York's Westchester, Putnam, Rockland, the Bronx and Manhattan, New Jersey's Essex, Passaic, Bergen, Hudson and Union counties and Connecticut's Fairfield County. Times vary and some may expire so be sure to check all the latest alerts for your neighborhood here.
Damaging hail and strong winds are thought to be the biggest threats.
Ahead of the storms, the weekend was a hot one, delivering a one-two punch of the year's first days in the 80s and 90s. Before Saturday, the warmest day of the year was only 79.
The National Weather Service issued a Heat Advisory -- the first one to be issued in May at least since 2006, if not earlier --in New York City for most of the weekend.
And while temperatures remain slightly above average on Monday, things turn even cooler Tuesday with highs only in the 60s.
Rain returns to end the week ahead of what otherwise looks like a stellar Memorial Day weekend.
Thinking of heading to the beach to escape the heat? Here's why it may be a good idea to stay out of the water, at least for now.
Just how unusual is it to get this kind of heat so early in the year? Well, New York City averages one 90-degree day each year in May. This year, it's possible to see two: Saturday and Sunday. The month that typically records the most 90 degree days is July, with an average of six.
The highest temperatures on record for the entire month are 98 or 99 degrees in most places. Interestingly, we have never recorded a 100-degree day at any of our climate reporting stations in the month of May.
A few spotty storms could pop up throughout the area as the hot weekend draws to a close Sunday evening. Then temperatures drop below average for next week.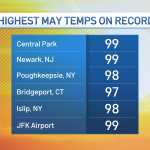 Track the latest weather conditions with StormTracker 4 using the interactive radar below.
Copyright NBC New York