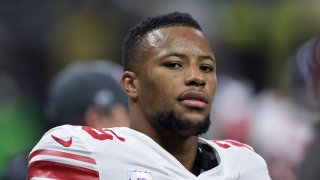 The New York Giants tested all personnel for COVID-19 after running backs coach Burton Burns tested positive early this week. Burns reportedly was one of 13 members of the organization who came back positive on an initial test but was the only member to not be negative on a second test.
Giants head coach Joe Judge said that several players would miss practice Wednesday for COVID-19 protocols, including Saquon Barkley.
Barkley reportedly tested positive on his initial test and is one of the several players being retested. After being retested, Barkley reportedly was back in the facility -- a clear signal that his first test was a false positive.
Barkley has missed the last three weeks of the season while dealing with a low left ankle sprain suffered in the Giants' Week 5 loss to the Dallas Cowboys. It's still unclear if his ankle will be healthy enough to play in the Giants' Week 9 game against the Las Vegas Raiders.