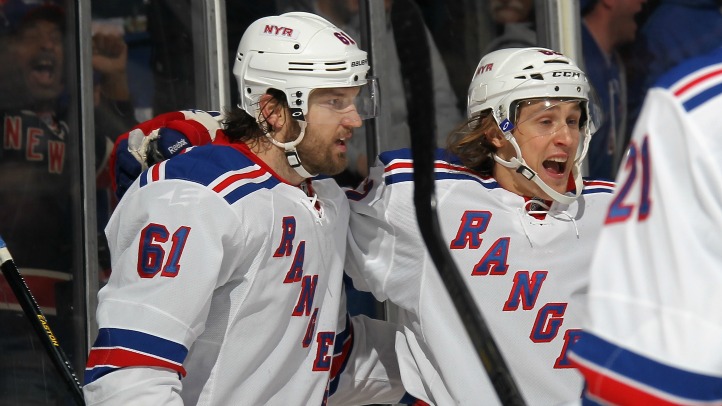 When Rick Nash was out of the lineup for three games with a concussion, the Rangers played like a team lost in the wilderness without any clue about how to move forward.
In the four games since he's returned, they've played like the team that people were expecting to see this season. Focused, determined and, most significantly, winning hockey games that are tightly contested in the key moments because they have a player with superior skills to make plays.
Nash didn't score the game-winner in Thursday night's 2-1 win over the Islanders. That honor went to Marian Gaborik on a power play in overtime, but Nash set it up after tying the game with another third period goal.
That means Nash has had multiple points in all four of the games since his return, all of which have been victories, and it means that all eight of Nash's goals on the season have come in the third period. It's the kind of thing that's almost certainly more circumstantial than meaningful, but that doesn't make it work as part of the larger story that's developing around this Rangers season.
Last year's Rangers team was willing to do every bit of dirty work that they could find, grinding out win after win without much in the way of high style. When they fell short, it was because they didn't have quite enough skill to tip the scales in their favor.
That's why there were Nash trade rumors at the deadline last year and it is why they persisted with their pursuit in the offseason until they were finally able to land him. They wanted a guy who could provide just enough of that skill to get two points when they were there for the taking.
With 20 points in his first 18 games and a 12-5-1 record in those games, it's fair to say that's worked out pretty well. The fact that his eight goals have all come in the final 20 minutes of regulation to either win a game, tie a game or put the final nail in the coffin only makes the decision to pull the trigger on a deal look all the wiser.
Narrative doesn't win you games, but it can win you trades and that's just what Nash has spent the first half of this season doing. The nice thing is that his efforts also do win you games.
Josh Alper is also a writer for Pro Football Talk. You can follow him on Twitter.
Copyright FREEL - NBC Local Media