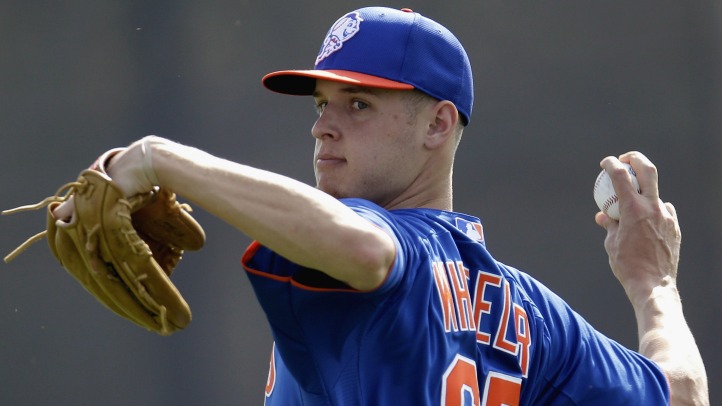 Terry Collins was holding court with the media in Port St. Lucie on Wednesday when pitching coach Dan Warthen puttered up in a golf cart to speak to the manager.
John Harper of the Daily News reports that Collins listened, uttered an expletive and then stormed off to cool down before resuming his media session. When he did, we learned the reason for his quick departure and heard other Met fans utter the same kind of unprintable words.
Zack Wheeler was scratched from his start because of an oblique muscle injury that forced the Mets to send their prized pitching prospect to the trainer instead of the mound. Given the history of the franchise and the battered psyches of those that love it, there probably were more than a few flashbacks to Paul Wilson and Bill Pulsipher going on in Florida and up here in New York.
There's no sign that this injury is anything more than the kind of minor ache that crops up in February and is forgotten by Opening Day. Any player would be handled with an abundance of caution at this point in the season and players of Wheeler's importance to the franchise are all but hermetically sealed until there's not even the slightest bit of discomfort before they're allowed to return to the field.
In a way, a minor kink at this point in the season actually helps the Mets. Any time Wheeler goes out and throws a good game this spring, the Mets are going to get pressure to keep him with the big club for the start of the season.
Now things can cool off a bit and the team can proceed with their plan to keep him in Triple-A to start the year, thus lowering expectations for both themselves and their bright shining hope for the future until there's a reason to raise them. We're doubtful that the bright side is on too many minds right now, though.
The nature of pitching prospects is that they are all actually suspects until proven otherwise. There are so many things that can go wrong on the way from the top of the draft to the top of a rotation that it's a wonder any pitchers actually complete the journey unscathed.
For a team that's seen Sandy Alderson put the majority of its eggs into a basket woven from pitching prospects, that's a scary thing to have in the back of the mind. When a team with the Mets' history does it, you can hardly blame people for assuming that the other shoe is always just about to drop.
Josh Alper is also a writer for Pro Football Talk. You can follow him on Twitter.
Copyright FREEL - NBC Local Media