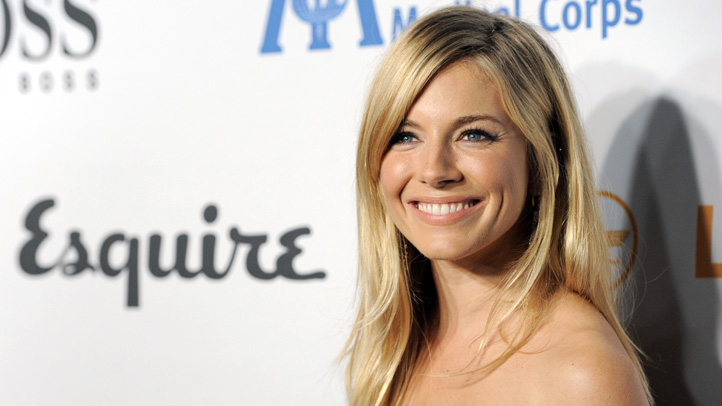 Sienna Miller is reportedly expecting her first child.
According to Us Weekly, the 30-year-old actress and boyfriend Tom Sturridge, 26, are having a baby.
VIEW THE PHOTOS: Celebrity Baby Bumps
According to a mag source, the couple doesn't "have plans right away to marry, if at all."
"Friends are really happy with her relationship with Tom," the source continued. "He's younger, yes, but he's mature and he's a good guy."
VIEW THE PHOTOS: The Bling Is The Thing! Hottest Celebrity Engagement Rings
Loved ones of the couple "were not surprised by the news of the pregnancy," the source said. "They just spent the holidays in Paris together after they announced the news in London."
In February 2011, Sienna ended her relationship with Jude Law for a second time. The former couple began dating in 2004 and first split in 2006.
A reps for Sienna was not immediately available for comment when contacted by Access Hollywood on Friday morning. A rep for Tom told Access, "We do not comment on our client's personal lives."
VIEW THE PHOTOS: They Dated? Surprising Former Couples!
Copyright 2012 by NBC Universal, Inc. All rights reserved.
This material may not be published, broadcast, rewritten or redistributed.
Related Content from AccessHollywood.com:
VIEW THE PHOTOS: Hollywood's Smokin' Hot Couples
PLAY IT NOW: Sienna Miller & Rachel Nichols Talk 'G.I. Joe: The Rise Of Cobra'
PLAY IT NOW: Marc Anthony's New 24-Year-Old Girlfriend: Is He Trying To Compete With J.Lo?
More from Access: [ Sienna Miller Jude Law Media ]
Copyright NBCAH - Access Hollywood