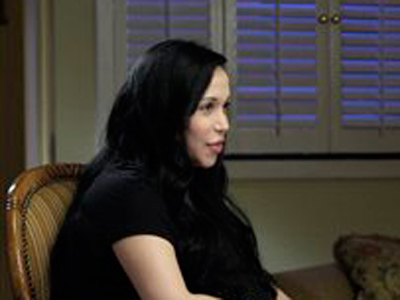 No, the near-broke Octo-Mom wasn't shopping for a million-dollar mansion. Nadya Suleman visited the $1.24 million home in Whittier, Calif. so she could tape an interview with Dr. Phil.
TMZ.com sparked more octo outrage yesterday when the gossip site reported that Suleman was spotted surveying a six-bedroom pad with her mom, Angela , and speculated that she was looking to buy.
But, apparently, Dr. Phil's show rented the house for the day and was there taping a sit-down interview with the mother of 14. No word yet on whether Dr. Phil is aiming to pitch-in for new digs, but that could make for quite the publicity stunt.
When the Octo-Mom's reps were asked if Suleman, who is reportedly facing foreclosure, was indeed interested in purchasing the home, they simply laughed.
The octuplet family will have a place to reside if they lose their home. A California-based nonprofit called "Angels in Waiting" offered Suleman round-the-clock care and a place to stay with her 14 children. It would cost about $135,000 a month to provide the 12 caretakers necessary for the children, money that would have to come from public donations, founder Linda West Conforti said in Los Angeles.
The organization has the trained nursing personnel and experience in caring for very sick children, she said. The group, however, could only provide care for a limited time without the donations, she said.
The house in which Suleman is already raising her other six children and will eventually bring her eight new children is in mortgage default, according to documents released Wednesday. The family is $23,224 behind on payments, according to the bank.
According to a "Notice of Default and Election to Sell Under Deed of Trust" obtained by TMZ.com, the Whittier home owned by Suleman's mother, Angela, could go on the auction block by the end of the year. Angela Suleman has made no payments on the house since last May, according to the documents.
Angela Suleman bought the home in March 2006 for $605,000, the New York Daily News reported. Her mortgage is $435,750.
Nadya Suleman, 33, gave birth to the octuplets -- six boys and two girls -- by Caesarian section on Jan. 26, nine-and-a-half weeks premature. The infants remain hospitalized at Kaiser Permanente Medical Center Bellflower.
Check back for the next installment of "What Will That Outrageous Octo-Mom Do Next?"