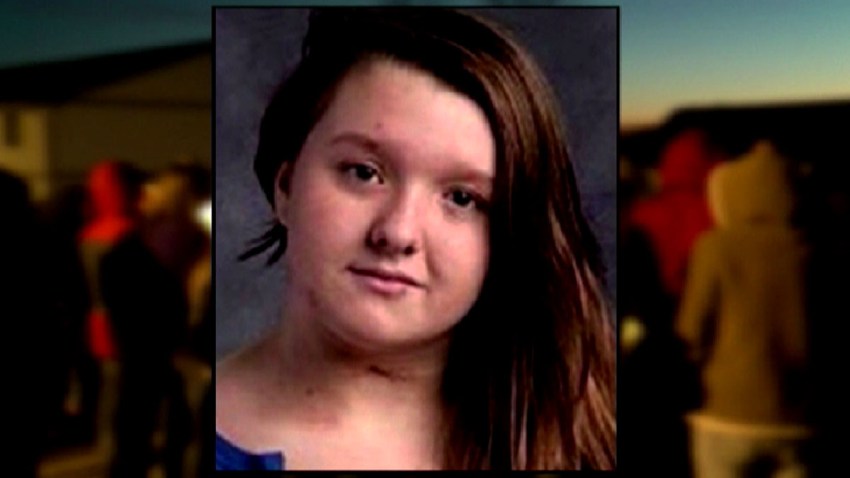 A 13-year-old Virginia girl who apparently climbed out her bedroom window was fatally stabbed the same day she left home, investigators said Tuesday, as officials looked into her social media activity.
Nicole Madison Lovell, who had battled health issues during her short life, was found dead Saturday. Her mother said Tuesday that Nicole was once, as a small child, so ill that doctors said she had just a 1 percent chance of survival.
But Nicole, who also had a liver transplant as a baby, "once again beat the odds," said her mother, Tammy Weeks.
Now a Virginia Tech student, David Eisenhauer, is accused of kidnapping and murdering the girl.
"I believe the truth will set me free," he said, according to a police document resulting from his arrest Saturday.
That was also the day that Nicole's body was found hidden off a North Carolina road, two hours south of the Virginia Tech campus.
A preliminary report found that her cause of death was stabbing, Commonwealth's Attorney Mary Pettitt said at the press conference Tuesday afternoon. Pettitt said Nicole died Jan. 27, the same day she went missing.
But the truth of what happened to her has been closely guarded by investigators, and officials said little else at the news conference.
Another promising engineering major at Virginia Tech also is behind bars. Natalie Keepers will be charged Tuesday with being an accessory before the fact to the first-degree murder, Pettitt said. That's in addition to earlier charges that accuse her of helping to dispose of the girl's body. The new charge carries a term of up to life in prison, Pettitt said.
Pettitt said she would not take questions about the investigation. She said her responsibility is "to maintain the integrity of investigation and seek justice inside the courtroom."
Police Investigate Nicole Lovell's Social Media Activity
Police are investigating the role social media may have played in Lovell's abduction and death.

A neighbor of Nicole's said the seventh-grader told her children she had snuck out to meet her "boyfriend" David, an 18-year-old she met online through the Kik messaging app.
Neighbor Stacy Snider said her 8-year-old twins played with Nicole before she vanished. She said they told her Nicole showed them a thread of texts.

"She was talking about this boyfriend she had that was 18 and went to college, and his name was David. And showed some text messages off of a Kik and pictures. And that's what the girls told the police officers when they asked," she said.

Snider said she learned all this from her girls only after Nicole vanished. "I would have told her mother. But we didn't know nothing about it until she came up missing, unfortunately," she said.

Kik Interactive, based in Ontario, Canada, was "active in helping the FBI carry out their investigation," spokesman Rod McLeod said.
Also, at Kik's request, Apple stopped advertising Kik Messenger as appropriate for kids 9 and older on its iTunes store on Monday. "Yes, we did recently ask Apple to change our rating to 12+. This more closely matches the age (13) in our TOS (terms of service),"McLeod told the AP.

Kik, along with Instagram and Snapchat, are particularly popular with younger teens, and it's impossible to keep underage users from signing up. Even kids whose parents closely monitor their activity on sites such as Facebook often use smartphones with other social media where predators lurk, said Adam Lee, special agent in charge of the FBI in Richmond.

"Kids are crafty," Lee said. "They will have one account parents have access to, and half a dozen they shield from their parents' view."

David Finkelhor, director of the Crimes Against Children Research Center at the University of New Hampshire, agreed that parental oversight is a good thing, but cautioned against placing too much blame on technology.

"Although there has been an increase in crimes that have some social media-related nexus to them, the overall level of crime victimization -- including sexual assaults and kidnapping and even peer bullying -- has declined," Finkelhor said. "So it's a complicated picture."

Teens who are vulnerable online would be vulnerable in other situations as well, Finkelhor added, especially those who are "socially isolated or dealing with some emotional problem, not well supervised, suffering rejection by families or peers. They are looking for support, someone who can give them affirmation."
Nicole Lovell Was a Survivor, Her Mother Says
Tammy Weeks, Nicole's mother, described the health problems her daughter battled and the joys in her short life.
Doctors discovered a rare tumor in Nicole's liver when she was a baby, and at 10 months old, she received a liver transplant. But at age 4, she was diagnosed with Non-Hodgkin lymphoma.
"She fought once again but after that, it wasn't enough," Weeks said, after her daughter developed an acute respiratory condition and fell into a coma for six months. During that time, she contracted MRSA, a drug-resistant bacterial infection.
Doctors said she had just a 1 percent chance of survival but after eight months in the hospital, Nicole went home.
Nicole loved pandas, music and dancing, and dreamed of being on "American Idol" someday, said Weeks, who clutched a stuffed panda during the press conference.
"Her favorite color was blue. Nicole was a very lovable person," her mother said as she cried and shook. "Nicole touched many people throughout her short life."
Weeks was unable to continue reading her statement, and an official ushered her away.
Nicole bore emotional and physical wounds as a young teen, suffering from bullying at school and online over her weight and a tracheotomy scar, her mother has said. She needed daily medication after her liver transplant.
"God got her through all that, and she fought through all that, and he took her life," Weeks told The Washington Post.
Nicole didn't like going to school because girls called her fat and talked about her transplant scars.
"It got so bad I wouldn't send her," Weeks said, but the bullying continued on social media.
Weeks shared with The Associated Press two photos of her daughter: one at about 10, sticking out her tongue and wearing a shirt showing an actor from the "Twilight" movies; the other in a Mountain Dew hat and Dr. Pepper shirt last summer.
"She loved Mountain Dew and Dr. Pepper," Weeks said.
Shock Over Arrests at Virginia Tech
Eisenhauer, 18, is charged with kidnapping and murdering Nicole; Keepers, 19, is charged with improper disposal of a body and accessory after the fact in the commission of a felony.
They said little at court appearances Monday, and their lawyers have declined to comment.
Blacksburg police said they have evidence showing Eisenhauer knew the girl before she disappeared Jan. 27.
"Eisenhauer used this relationship to his advantage to abduct the 13-year-old and then kill her. Keepers helped Eisenhauer dispose of Nicole's body," a police statement said.
On the Virginia Tech campus, state police divers continued to search a pond, and wouldn't say what they hoped to find.
The arrests of Eisenhauer and Keepers, two ambitious and focused students, shocked people who knew them in Maryland, where they attended nearby high schools. Neither had prior criminal records, police said.
"We had no reason to think he would be unsuccessful in his goals because he was very focused," said Principal James LeMon at Wilde Lake High School, where Eisenhauer graduated last year.
Eisenhauer, named Boys Indoor Track Performer of the Year by The Baltimore Sun last March, chose Virginia Tech to pursue engineering while competing with the Hokies' top college runners, LeMon said.
Keepers interned at NASA's Goddard Space Flight Center, led science experiments at her church's Bible school and hoped to build a future in aerospace or ocean engineering, her online resume said.
"It's just very, very surprising," said her principal, Marcia Leonard at Hammond High School.
Eisenhauer lived in Ambler Johnston Hall, the same co-ed residence hall where the first two people were killed in the 2007 campus massacre that left 32 dead.
"From what we've heard, he really stayed in his room a lot," said Abbey Workmeister, another freshman who lives in the same dormitory.
Logan Fry, a sophomore who lives on the same floor and also ran track in high school, said Nicole's death and the arrest of her dorm neighbor was frightening.
"Like, it definitely could have been me," she said.
---
Associated Press writers Juliet Linderman in Maryland, and Larry O'Dell and Alanna Durkin Richer in Richmond, Virginia, contributed to this report.
Copyright AP - Associated Press