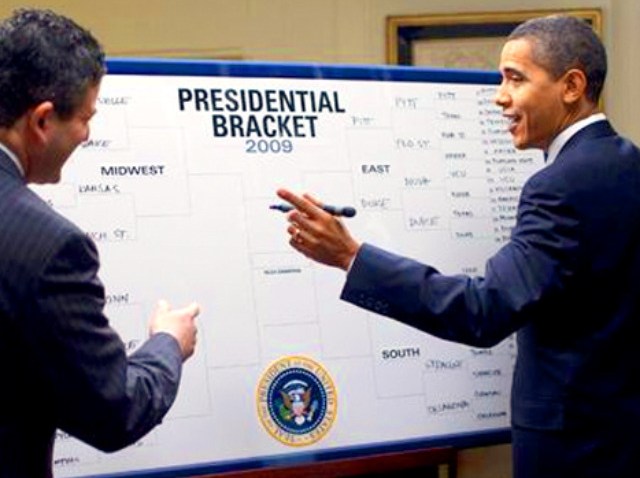 NEW YORK - The president's bracket is a bust.
President Barack Obama went 0 for 2 in the NCAA tournament Saturday when Kentucky and Kansas State lost in the regional finals, knocking out his two remaining picks for the Final Four.
In his ESPN.com bracket, Obama predicted that Kansas, Villanova, Kentucky and Kansas State would reach the Final Four. Kansas and Villanova were upset in the second round, then Kentucky and Kansas State went down Saturday.
Kentucky, the top seed in the East Regional, was beaten 73-66 by second-seeded West Virginia. Kansas State, the No. 2 seed in the West Regional, lost 63-56 to No. 5 Butler.
Obama's bracket ranked 1,154,792nd on the Web site's leaderboard, putting him in the top 75.8 percent of users who entered picks.
The commander in chief also lost a Final Four pick in his women's bracket when top-seeded Tennessee lost to No. 4 Baylor 77-62 in the round of 16. Stanford, his Final Four pick for the Sacramento regional, routed fifth-seeded Georgia 73-36.
Copyright MSNBC - MSNBC