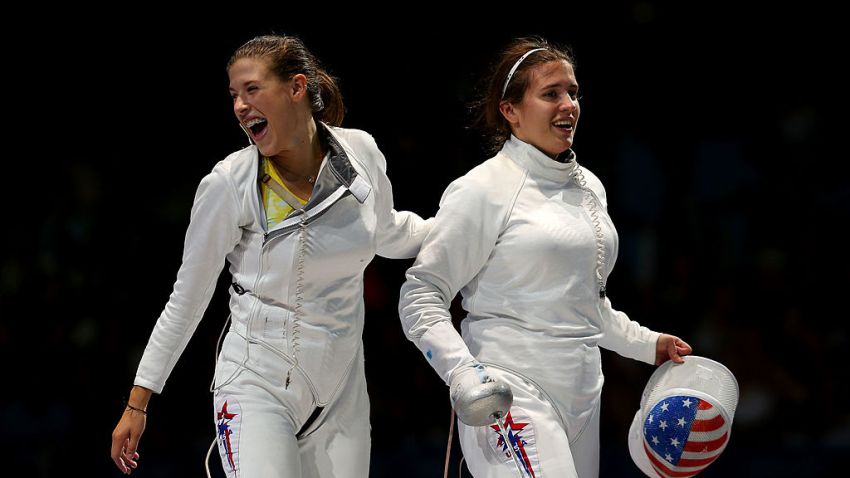 It may be typical for there to be a little sibling rivalry among brothers and sisters, but for fencing Olympians Kelley and Courtney Hurley, they might just be the closest sisters you've ever met.
"There was definitely some competitive battles we had, but as soon as we left for college I feel like I really was able to sort of separate myself from Courtney and realize I don't have to compare myself, I am who I am," Kelley Hurley said.
Kelley and Courtney are headed for their second Olympic games together, among seven sets of siblings competing in Rio this year.
In 2012 the sisters took home the bronze medal in the Women's Team Epee at the London Games.
"I mean two medals for one family that's hard to do," Courtney Hurley said. "So winning with my sister and also my parents in the crowd, you can't beat that feeling."
Fencing isn't new to the Hurley family.
Kelley and Courtney's parents met in fencing and introduced the girls to the sport when they were around seven or eight years old.
"I think it comes with our family. The way our family works, we call ourselves Team Hurley, mom and dad and Courtney and I, it's a win for Team Hurley," Kelley said. "We don't look at it as me trying to prove I'm better than Courtney, that's not the way we were raised."
Both sisters attended the University of Notre Dame because of its notable fencing program. Kelley attended the university two years before Courtney. Courtney was between Notre Dame and Ohio State University.
"If Courtney had gone to Ohio State University that probably wouldn't have helped our bond," Kelley said.
The Hurley sisters lived together throughout college and as they have progressed in the sport. For the past year Kelley and Courtney have lived in Houston, Texas.
"The awesome thing about having my sister there is I truly want her to do well," Kelley said. "And in fencing I find that to be very rare to want the best for them [sibling]."
Kelley and Courtney motivate each other every day to practice and train.
"We genuinely want us to do well," Courtney Hurley said. "I don't think I've ever smack-talked Kelley."
A friendly sibling rivalry moment when they were starting-off in the sport, Kelley Hurley recalls it happening just once.
"There was one time I lost and Courtney said I sucked," Kelly Hurley said as she laughed.
The sisters have competed against each other multiple times in America but never against each other in international competitions. As for the Rio Games, the chance of competing against each other would be at the very end of the Olympics.
"I think if we did run into each other, it depends on what round, if it depends on a medal or no medal, it would be a pretty intense match," Kelley Hurley said. "A win's a win for Team USA and Team Hurley."
The Hurley sisters hope that regardless of the competition, one of them makes it to the end.
"We can't both win," Kelley Hurley said. "That's what happens when you pick the same sport."
As for now, Kelley and Courtney are unsure what the future holds for the Hurley Team.
"I think eventually we're going to part ways, I don't know if it's now or after the Olympics," Courtney Hurley said. "We thought about recently that this might be the end and this might be a break and it's kind of sad because we've always lived with each other."