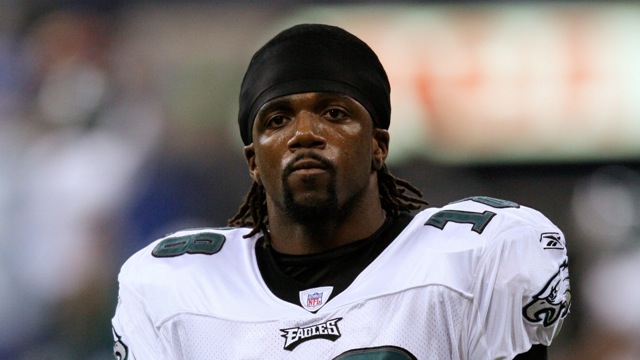 Cleveland Browns wide receiver Donte Stallworth accidentally struck and killed a pedestrian while driving in Miami, police said.
The accident happened around 7 a.m. on the MacArthur Causeway on Miami Beach, police told WFOR-TV in Miami. Stallworth, 28, was headed toward Miami Beach in his Bentley.
Witnesses told the South Florida Sun-Sentinel that the victim, 59-year-old Mario Reyes, was a crane operator for a shipping company. He had just come off the overnight shift and was crossing the street to catch a bus home. Reyes was taken to a trauma center and pronounced dead there about an hour later.
"He spent all his free time with his family," Reyes' brother-in-law, Francisco Fajardo, said on Sunday. "He was on his way home."
His family and co-workers said he had clocked out minutes before the accident.
"When the time came for him to leave, he grabbed his stuff and headed to the bus stop out front," co-worker Renier Calana told The Miami Herald. She worked with Reyes unloading cargo containers from the Port of Miami.

"We could hear the impact," she said. "We all ran out, and he was lying there unconscious in the middle."
Reyes leaves behind his wife of almost 20 years, Catalina, and the couple's 15-year-old daughter, Daniela. They live in a southwest Miami home owned by Fajardo, which they share with his family.

Reyes' wife and daughter were too distraught to speak Sunday.

"Our family is in shock," Fajardo said. "They don't really want to talk."
Stallworth, 28, has been cooperating with police. His blood was drawn for alcohol and drug testing, which is standard procedure in this type of accident investigation.
Police questioned and released Stallworth and would not say what had led to the crash, the Miami Herald reported late Saturday night.
This was not his first brush with the law while in Miami. In March 2006, Miami police booked him for resisting arrest after a traffic stop, the Herald reported.
The Cleveland Browns said in a statement that they were aware of the latest accident.
"We understand the seriousness of this situation, but we will not have any further comment at this time as this is an ongoing investigation."
The speedy receiver made his name with the Philadelphia Eagles after arriving from New Orleans in a trade just before the 2006 season.
Though he missed four games with a hamstring injury, he was generally well received by Eagles' fans.
"He was a legitimate deep threat, was personable and if inverted, his #18 jersey would be #81, TO's number. Hence, he was the 'anti-TO,'" NBC10 Sports Director Vai Sikahema said.

Stallworth wasn't on the roster for long because the Eagles were indifferent about giving him a long-term deal, to the frustration of the fans.
He signed with the Patriots as a free agent in March 2007 before he moved to the Cleveland Browns.
Stallworth was owed a $4.75 million bonus that may have kicked in Friday, sources told NBC10.