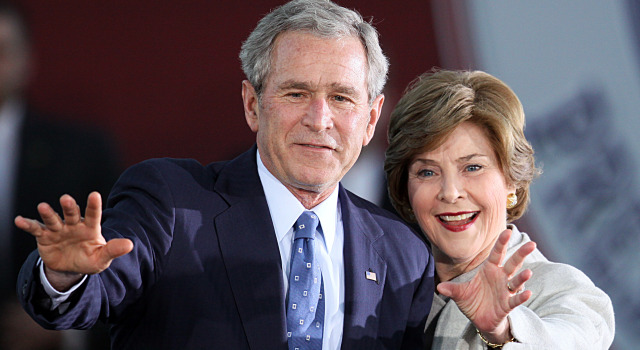 Let the great George W. Bush image rehabilitation begin.
Possibly because of the meltdown in Democratic D.C. over AIG bailouts and bonuses, the former president is looking a little better.
Sure, if you polled people, he might not look so great in raw popularity (a large segment of the public probably still blames Bush & Co. for the current fiscal mess). But the man himself actually looks better now that he's been out of office for several months.
He also comes across much better in comparison with his former vice president. For the third time in about as many months, Cheney took a shot at the Obama administration. And for the second time in one month, he took a slap at his former "boss" over the non-pardon of Scooter Libby. (Maybe Cheney needs to get a blog of his own -- perhaps contact Tina Brown about contributing to The Daily Beast?).
Given the opportunity to criticize Obama himself, President Bush gamely demurred: "[President Obama] deserves my silence," he said in that classic New England Protestant style typified by his father.
Meanwhile, for a guy who was brutally portrayed as dumb and illiterate, Bush also scored a pretty good book deal -- from Crown, the same publisher as Obama's "Dreams From My Father" and "The Audacity of Hope." Dubya's book -- don't call it a memoir -- is called "Decision Points" and will, yes, focus on some of the major decisions he made as president: 9/11, Iraq, Katrina are some of the big issues that will be addressed.
Despite Bush's reputation as an anti-intellectual "dunce," Crown gave the former president an advance of $7 million. In the current economy and bleak publishing market, a company isn't going to give that much money -- even to a former president -- if they don't think they can make it back.
Bush is reportedly writing everyday and has a good deal already done.
Prediction: The book will both sell and be received more favorably than might be currently thought. Keep playing that low expectations game, George. You may yet surprise your critics.
Robert A. George is a New York writer. He blogs at Ragged Thots.
Copyright FREEL - NBC Local Media