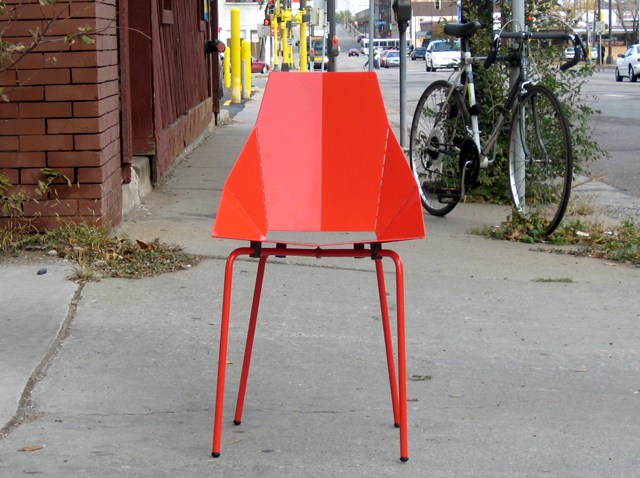 Everyone does it: you see that piece of furniture on the curb that will really tie the room together. You look over your shoulder to see if anyone is watching. You give it a brief inspection (a little wobbly, but no matter, a few screws tightened here, some polish there) and you give another man's trash a treasured new home.
Ever wonder where it had been before you saved it from its fated and final inglorious trip to land fill?

Blu Dot, a furniture store in SOHO, decided to explore this practice of "curb-mining" a little deeper. Yesterday, the store dropped 25 of its signature Real Good chairs on curbs throughout the five boroughs and is tracking their course using GPS technology and Twitter. Chair number 2, for example, started on the Upper West Side yesterday and it woke up in Park Slope this morning.

How does the red chair feel about that? Is it telling all of its friends from the UWS that it was totally a good move because it got so much more space for what it pays (even a shared backyard for the kids!), the commute really isn't that bad and Prospect Park is just as good as Central Park? Check out the chair's Twitter feed to find out.
The chairs will be tracked through today (photos are also streaming on flickr), so follow them and cross your fingers that none of them end up in the back of a DSNY truck. A short film based on the experiment will be on the site in December, hopefully giving the chairs the opportunity to express themselves better than they could in 140 characters or less.
Copyright FREEL - NBC Local Media